Join Welsh Cycling and friends for a weekend dedicated to women's mountain biking in Coed y Brenin. There will be coaching, riding, workshops and fun with a group of mountain bike women and legendary mountain bike rider Tracy Moseley.
Borrowing its name from one of the forest's best loved trails, the Temtiwr weekend will offer women an opportunity to advance their MTB skills and confidence, building on existing skills and learning new. There will be time to ride, relax and socialise in the beautiful surroundings of southern Snowdonia's Coed y Brenin Forest Park.
This event is open to women over the age of 16 regardless of ability as Coed y Brenin's network of trails caters for the novice beginners to the hardcore gnarly shredders.
Gaynor Davis, Women and Girls Officer at Welsh Cycling said: "The event offers women the opportunity to socialise, meet new friends and to experience the joys of mountain biking on some of the most scenic trails in North Wales. We want to create the opportunity for women to improve their confidence & skills in preparation for entering mountain biking events, such as the Coed Y Brenin Enduro or Welsh Mountain Biking Series."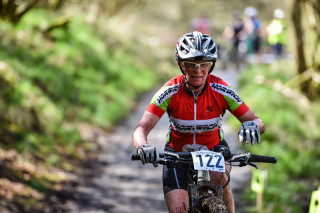 Saturday at Temtiwr
The Temtiwr weekend will begin with informal guided riding on Saturday but those wanting to limber up for the trails can arrive early for a pre-ride yoga session led by local yoga instructor and MTB guide Polly Clark of Mountain Yoga Breaks (yoga session 1.5hrs +£10 bookable on sign-up).
Saturday evening the visitor centre will host a film screening. We'll confirm what's showing a little closer to the date. A hot meal is available prior to the film screening by pre-booking with your event ticket.
Sunday at Temtiwr
The core of the weekend will be Sunday's coaching sessions and workshops. The morning will begin with a meet & greet before riders head off to their pre-selected sessions. Participants will join 2 x 1hr sessions comprising of 1 x 1hr coaching session plus 1 x 1hr workshop. There will be a short break between sessions with a chance to relax and grab a drink or snack.
A sandwich buffet lunch is included in the entry fee. Please notify us if you have any food allergies or special dietary requirements.
Sunday afternoon will continue with grouped rides, offering those who feel ready, the chance to sample route sections from the forthcoming Coed Y Brenin Enduro . The weekend is a great opportunity for riders looking to prepare for the challenge of this and other MTB endurance events. A new shorter route option will be added to the event this year, providing a stepping stone for those wanting to take on one of the longer routes in future years.
After the ride there will be an afternoon tea break with hot drink and biscuits available (also included in the ticket price) before the Q&A session begins.
Tracy Moseley at Temtiwr
The event will close with a talk and open questions and answers session with Trek Athlete and Ambassador, former UCI Downhill and Enduro World Series Champion, Tracy Moseley. Tracy has a long and illustrious career at the uppermost levels of the sport, with many national, European and World titles to her name.
The Q & A session offers the chance for Tracy to share her experiences from taking her first steps in the sport to competing on the world stage, a journey to inspire and inform all women in the sport of mountain biking.
Interested in attending? The event costs £25 per person, with optional extras available too. You can register your interest here.