The Welsh Mountain Bike Cross Country Series continues this weekend in Coed Llandegla, promoted by Clwb Beicio Mynydd Dyffryn Conwy.
The five-round series moves on to Coed Llandegla in Wrexham on Sunday 7 May, before heading to Aberystwyth later this month with the Welsh Cycling Mountain Bike Cross Country Championships on the horizon in June.
The Venue
Coed Llandegla is exposed to the elements, with minimal coverage of the 5km loop. With fair weather forecast there should be sunshine combined with low winds and good visibility on the course.
The course heads on to the fire road, so expect a fast start. There is a new A/B line feature, with the trail running fast and good flowing single track sections. A variety of gruelling climbs will test riders, and with improvements around the course expect a new challenge.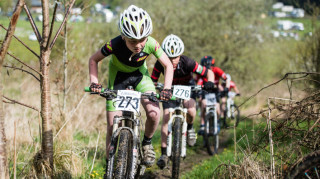 The Competition
With elite riders Jacob Phelps (TORQ), Lee Williams and Ffion James (Abergavenny RC) competing at Hadleigh Park International across the weekend, the field is open for new challengers to take a win in Coed Llandegla.
In the junior categories, Joe Beckingsale (Abergavenny RC) and Craig Rogers (Birkenhead North End CC) will be representing Wale sJunior Programme in Hadleigh Park, whilst local rider Katie Hesden (Dreigiau Coed Y Brenin Dragons) will be looking to secure victory on home turf.
Event Information
The second round of the Welsh Mountain Bike Cross Country Series takes place Sunday 7 May at Coed Llandegla, Wrexham and is organised by Clwb Beicio Dyffryn Mynydd Conwy.
Youth races begin from 9.30am on Sunday 7 May, followed by all juvenile, youth, fun and elite, expert, junior, sport, veteran and grand veteran women at 11.00am. At 1.30pm, elite, expert, junior, sport, veteran and grand veteran men will begin.
Entries are available on the day, see more information on the series Facebook page.