A new Go Race MTB Series has begun in Mid Wales for 2017, organised by Chris Jones, Ystwyth CC. Dreigiau Coed Y Brenin hosted Round 1 of the new Mid Wales MTB Series on Sunday 12 February.
Despite the Arctic conditions there was still a good entry for the races and the coaching sessions that took place before it. Coed Y Brenin is one of the most naturally technical courses the youngsters can ride but also provides the opportunity to ride something a little different.
Up first were the Under 6s, Ystwyth riders Hollie and Manon continued their battles from the CX season and were together for just about all of the race. Manon overshot one of the last technical sections and whilst returning to the course was passed by Hollie. In the boys Jude White started a good day for the family as he dominated the race followed home by his mate Sennen Brown. Steffan and Ellis and their parents worked hard to get them home.
Up next were the Under 8s and from the line it looked like there would be some good battles. Noah White continued to show his strength as he started pulling away from the Welsh riders at lap two. He had come across during the winter to ride the CX in Newtown and showed everyone a clean pair of cleats there. Tom and Charlie continued their battles, it looked early on like Tom had pulled a safe gap but Charlie worked hard to close the gap and if the race was one lap longer it could have been time to close the eyes for parents. All other riders worked hard and continue to improve each race. In the girls Lowri and Efanna battled well at the front of the race until Lowrie then pulled a gap to secure the win. Poppie, Laura and Martha moving up an age group worked hard on the technical course.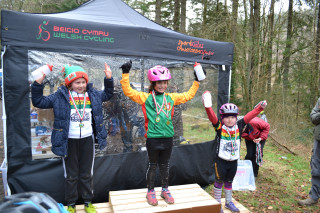 In the Under 10s Cian continued to show his form from the CX season and pulled away from the start and extended his lead a little each lap. Finn and Tomos impressed in their first year at U10's and rode hard to come home in second and third. Eva and Elain and the rest of the boys battled hard to finish the race strongly and it was clear that there would be some good competition for the rest of the season.
The Under 12s were the first group to take on the fire road climb and a longer course. Freya went off from the start and was gaining a nice lead until a problem with her chain forced her to DNF. The two Megans and Mari then fought hard on a course more technical than they are used to. This is another class that should make for some interesting racing as the series progresses.
Alfie continued to impress in the boys race and showed he's maintained his fitness from the Winter CX. Nils and Max rode really well to come home in second and third and there were clear improvements in fitness and efforts from the remaining riders on this challenging course.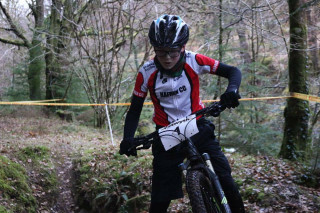 The final race saw the last of the age groups heading off together for the 30 minute race on the full course. A fairly long climb to start the lap was followed by some fast flowing descents and technical climbs and included the rock garden. It was also the rematch of Griff and Huw following their battles at the WMBS last year. They knew they had their work cut out though as Tim Freeman made a guest appearance at the start line.
Tim pulled a big gap half way through the first lap and was a pleasure to watch on the technical descents, showing that smooth is faster. Huw got the best start in the U14's and was riding strong having a 22 second gap on Griff at the half way point. Griff then pulled the time back and they were riding together until Huw got a puncture and had to make a wheel change. It is a shame as they only had one lap to go and it could have been a real close finish. Luke returned to racing in the U16's and had a good ride but Owen Evans who returned to racing for the CX season put his training to task and stayed with Griff for around half of the race. Ollie, Sam and Joseph all put in good efforts on this demanding loop.
In the adults race, Elin showed good fitness to win the ladies and come in 8th overall. Tim Grainger rode hard and showed a lot of the younger riders what it means to dig in and stay strong over the whole race. The two Aberystwyth boys started a battle that should continue all year although i think Kev may have to ditch the winter jacket for a lighter one!!! I don't think that Simon will go off the line so hard and may well choose to stay with Kev!!
Results
U6 Girls
1st Hollie Bevan Ystwyth CC
2nd Manon Lewis Ystwyth CC
U6 Boys
1st Jude White Mid Shropshire Wheelers
2nd Sennen Brown Mid Shropshire Wheelers
3rd Steffan Roberts Dreigiau Coed y Brenin
4th Ellis Ward
U8 Girls
1st Lowrie Howie Dreigiau Coed y Brenin
2nd Efanna Lewis Ystwyth CC
3rd Poppie Haynes Ystwyth CC
4th Laura Thompson-Brook WWCRT
5th Martha Gilbert Dreigiau Coed Y Brenin
U8 Boys
1st Noah White Mid Shropshire Wheelers
2nd Tomos Jones Ystwyth CC
3rd Charlie Baxter Ystwyth CC
4th Harry Houlden CBM Dyffryn Conwy
5th Gethin Serjeant Hafren CC
6th Sean Bevan Ystwyth CC
7th Gruff Morgan Ystwyth CC
8th Oliver Williams Ystwyth CC
9th Osian Jones
10th Jim Tookey Dreigiau Coed y Brenin
11th Leo Griffith Hafren CC
12th Noah Dearing Hafren CC
U10 Girls
1st Eva Griffith Hafren CC
2nd Elain Jenkins Ystwyth CC
U10 Boys
1st Cian Evans The Bulls
2nd Finn Davies Cycle Tec
3rd Tomos Gilbert Dreigiau Coed y Brenin
4th George Joyce Hafren CC
5th Gwion Humphreys Ystwyth CC
6th Melchi Lee McPherson Ystwyth CC
7th Henry Farr Hafren CC
U12 Girls
1st Megan Blackburn CBM Dyffryn Conwy
2nd Megan Lewis Ystwyth CC
3rd Mari Buck Jones CBM Dyffryn Conwy
DNF Freya Evans The Bulls
U12 Boys
1st Alfie Davies Cycle Tec
2nd Nils Bussink Dreigiau Coed y Brenin
3rd Max Bufton Hafren CC
4th Morgan Yorke Dreigiau Coed y Brenin
5th Gerwyn Humphreys Ystwyth CC
6th Llyr Jones
U14 Boys
1st Griff Lewis Ystwyth CC
2nd Huw Buck Jones CBM Dyffryn Conwy
3rd Ollie Jones Hafren CC
4th Sam Freeman
5th Joseph Parry
U16 Boys
1st Owen Evans Ystwyth CC
2nd Luke Simmonds Dreigiau Coed y Brenin
Over 18 Ladies
1st Elin Roberts Dreigiau Coed y Brenin
Over 18 Men
1st Tim Grainger Stourport CC
2nd Kevin Jones Hafren CC
3rd Kevin Haynes Ystwyth CC
4th Kevin Blackburn CBM Dyffryn Conwy
5th Simon Bevan Ystwyth CC
Thanks to all that came to support the races by riding, sign on, refreshments, coaching lap scoring etc. Hope to see you all at the next round in Aberystwyth on 16 April 2017.