The series provides a brilliant opportunity for youngsters to try their hand at mountain bike racing where they are given points for their finishing position as well as upon completion of different skills challenges.
With its hard compact surface and lack of hard climbs, the Marsh Track course is ideal for those new to the sport of mountain bike racing. Signing on is from 9:00 am with racing starting at 10:30am.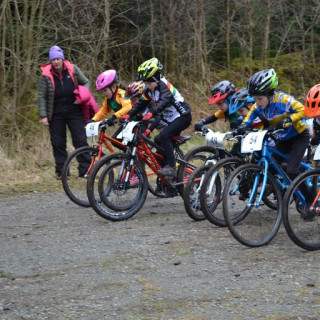 With previous winners having progressed to National races, winning Welsh MTB Championships and even the British Cycling Team Apprenticeship Programme, the series provides a brilliant platform for youngsters to gain racing experience at grassroots level.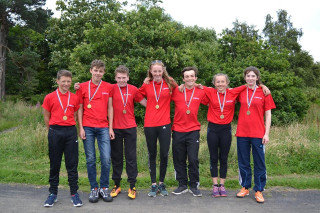 Welsh Team (above) from MTB Inter Regionals 2016 medalling and most come through Go Race MTB events.
From the woods of Betws y Coed and Coed y Brenin, to the slate quarries of Llanberis, the 2014 series will provide challenging, fun races on varied terrain. The series will be hosted by a handful of the region's clubs including Clwb Beicio Mynydd Dyffryn Conwy, Dreigiau Coed y Brenin & Clwb Beicio Dwyfor.
Go Race MTB Series 2017 dates:
Race/Diwrnod 1: 18/03/17 Parc Gwledig Padarn, LL55 4TY - 52 riders took part.
Race/Diwrnod 2: 14/05/17 Marsh Tracks, Rhyl, LL18 2AD
Race/Diwrnod 3: 25/06/17 Nant BH, Llanrwst, LL27 0JB
Race/Diwrnod 4: 02/09/1 7 Coed y Brenin, LL40 2HR
Race/Diwrnod 5: TBC Nant Gwrtheyrn, LL53 6NL
Race/Diwrnod 6: 11/11/17 Nant BH, Llanrwst, LL27 0JB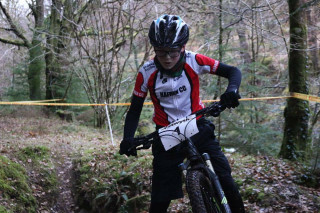 Entry fee per race: £4.00 for British Cycling Members, £6.00 for non-British Cycling members. Entry on the day.
We also have a NEW Mid Wales Go Race MTB Series 2017, next event is 25th June 2017 in Newtown, Powys.
For more information contact Tim Matthews
Young Rider Development Officer (North Wales)/ Swyddog Datblygu Reidwyr Ifanc (Gogledd Cymru)
Welsh Cycling | Beicio Cymru
Email – tim.matthews@welshcycling.co.uk or Mobile no. 07718 578433