Jackie Harris lives in Powys, and joined Breeze in 2015. She never owned a bike as a child, but had a lot of fun learning with her children when she was older. As well as running Breeze rides for local women, Jackie is a member of Hafren CC and regularly competes in club time-trials.
Jackie started cycling as a commuter, averaging 20 miles a day through city traffic. After getting the cycling bug, Jackie joined a cycling club to find other people to ride with at weekends.
"Joining a club was great for, there was lots of encouragement and I learnt lots of new skills. I started to enter time trials which was a fun introduction to competitive cycling! I'm not very fast but it's a good workout.
I've been part of two cycling clubs over the last 10 years, and there is always a shortage of female riders. I started to run women's rides at Hafren CC, I just wanted to ensure women who wanted to ride their bikes had the opportunity to do so."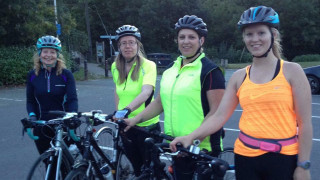 Jackie became a Breeze Champion in the summer of 2015, and leads a variety of beginner rides along the canal to more challenging road rides of greater distances.
"I'm really enjoying being a champion, and would encourage other women thinking about becoming a champion to go for it!
Breeze is such a good idea, it's like a virtual club for women who want someone to ride with. My rides are always fun and supportive, and I enjoy the social side of Breeze rides. I have a few regular riders, but there are always new people coming along!
It's rewarding when you see the enjoyment on other peoples' faces. It's not hard work at all; it's just going for a bike ride!"
Jackie regularly runs Breeze rides in and around Newtown and would love for you to join her!
Find your local Breeze Bike Ride at breezebikerides.com