Esther Griffiths, from Bethesda, has always ridden a bike as a child with her family and as a means of transport in her university years. Now she is a Breeze Champion, she is inspiring more women to ride their bikes for fun.
It wasn't until after she had her children that Esther got her first road bike, and fell in love with cycling again – the space and freedom to get away from it all. The phrase 'Mum's out on her bike' meant Esther was out of reach for a few hours, but would come back wearing a huge smile and feeing great.
"Cycling helped me to reconnect with my body after pregnancies and breastfeeding, and became essential for my mental health.
I am the sort of person who always like to do things in groups and share my love of something, so the Breeze network really appealed to me. Supporting other women to share the many benefits of cycling is an incredibly rewarding experience and I love being part of a recognised network.
I have had lots of new experiences and there have been some challenges, leading a group of riders is very different to going out on your bike alone! You certainly have to think on your feet at times!"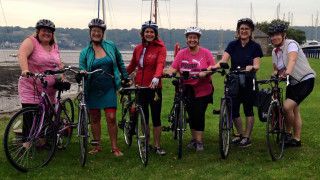 Esther started leading rides in Summer 2015, with a beginner route on a cycle path alongside an old railway line. Esther will continue to deliver beginner and novice rides in 2016 to boost the confidence in women who aren't regular riders.
"It has been amazing witnessing some of these women become regular riders after joining my Breeze rides. It can be hard for women to find time for leisure and fitness, and the inclusive ethos of Breeze is important to remove the barriers that some women face in society.
You don't have anything to lose! My Breeze rides are accessible, fun and a great way to make new friends."
Esther runs regular Breeze rides in Gwynedd, and is the Breeze Champion at Penrhyn Castle National Trust property.