Go Ride Conference Wales will provide unique opportunities for Welsh Cycling affiliated clubs to benefit from workshops delivered by Sport Wales and Disability Sport Wales in March.
As well as workshops covering coaching, young volunteers and club welfare officers Welsh Cycling are able to offer additional workshops unique to Go Ride Conference Wales from partners Sport Wales and Disability Sport Wales.
Georgina Harper, National Development Manager, said: "The Go Ride Conference offers a fantastic opportunity for Welsh clubs to come together and share ideas and knowledge. The addition of the workshops delivered by our partners from Sport Wales and Disability Sport Wales adds more value to the conference. I look forward to welcoming Welsh clubs to Swansea in March!"
Welsh Cycling club members are welcome to attend the funding workshop delivered by Sport Wales. The workshop aims to raise awareness of what financial support is available to sports clubs in Wales and give you some top tips on submitting applications. There will then also be an opportunity for volunteers to go through proposed or existing funding applications with Sport Wales delegates.
Disability Sport Wales will also deliver a workshop to help clubs consider how they can adapt sessions and activities for disabled riders. There will be lots of ideas on how you can look to make your club more inclusive with some real life case studies as well as guidance on where to get more support if needed.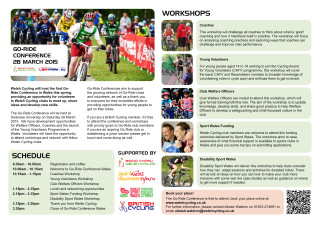 Book your place
The Go-Ride Conference Wales will take place 10.00am - 4.00pm on Saturday 28 March at Swansea University. Find out more about what the Go Ride Conference has to offer here.
For further information, please contact Alistair Waldron on
01633 274691 or email Alistair.waldron@welshcycling.co.uk