Zoe Backstedt won the under-16 titles at the HSBC UK | National Cyclo-cross Championships in Gravesend, Kent, on the weekend.
Backstedt (Storey Racing) – last year's under-14 title winner – ensured that defending champion Millie Couzens (PH-Mas/Paul Milne Cycles) had to settle for silver, while Cardiff J.I.F's Ella Maclean-Howell completed the podium.
Josh Tarling (Team Backstedt/Hotchillee) won the Findus Trophy for best under-15.
The men's veterans races saw Tim Davies, Abergavenny RC take the Silver in the Vets 50+ whilst Ian Jeremiah, Cardiff J.I.F took a Top 10 position (7) in a fast paced and close finish.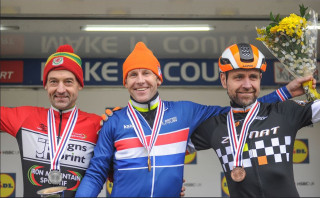 Rhys James, Welsh Cycling Events Administrator said "We went to witness good racing and we came away witnessing great racing with an outstanding welsh representation.
The difficulty of the Cyclopark's course is well known to have many technical aspects that potentially could have split a race wide open, but it was a great event, great course and the atmosphere of the day was great".
Full results are available here.