Location: Poole Cycle Speedway, Dorset
Event: 17 September 2011
Report: Graham Sutton
---
With the British Under 19 title already chalked up, Mark Carmichael added the South/South Wales Senior championship to his growing list of honours with a faultless twenty point maximum at a blustery Harbourside Park.
From left to right: Second Chris Shylock, Winner Mark Carmichael, Third Place Dan Bock
The crucial race of the event for the young Welshman came in heat 9 when he lined up on grid 3 outside Chris Shylock and Matty Sczymczak who were both unbeaten up to that point. Dramatically, the task was made a whole lot easier when referee Robin Spicer spotted tapes movement by the Horspath man and Mark was able to speed away for a win in the re-start.
A win in that race for Szymczak would surely have given him the title as it was the only time in the match that he dropped points. Meanwhile Chris Shylock came out for a second place behind Dan Bock in heat 15 in the knowledge that a potential four points from his final race would earn him second place overall.
With the home favourite Shylock duly picking up his expected win in heat 18, Dan Bock needed to match it in the penultimate race but could not manage better than a second behind Matt Szymczak. The rostrum places were therefore decided without run-offs and with holder Mark Boaler choosing not to defend his title, a new name was added to the regional hall of fame.
Under 16 Final
Fresh from his victory in the British Under 16 Final at Norwich a fortnight ago, Arron Morgan underlined his racing credentials on his home circuit to win the corresponding regional title with a twenty point maximum, three points clear of the chasing bunch.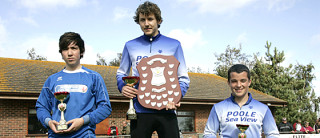 From left to right: Second Oli Sidwick, Winner Arron Morgan, Third Aaron Smith
In the absence of 2010 champion Jack Harrold, the biggest threat to the talented Poole rider inevitably came from his own clubmates, none moreso than Matt Mildon who almost pulled off the pass of the day when the two clashed in heat 9. With Morgan leading the race, Mildon attempted one his trademark passes only to slip off just as it looked as if he had caught his great rival knapping.
The battle for rostrum places amongst the chasing pack included stylish Zac Payne and Will Bristowe but it was Oli Sidwick and Aaron Smith who finished strongly to draw level on 17 points with Matt Mildon who was otherwise unbeaten apart that earlier heat 9 tumble.
That set up a three way run-off for silver and bronze places involving Sidwick, Mildon and Smith who lined up in that order from gates 2, 3 and 4. The Newport rider led for three laps with Mildon waiting for his moment to challenge which came on lap 3. Unfortunately both riders hit the deck and it was immediately clear that the Poole star had come off worse with facial injuries as he hit the inside concrete inside line.
An ambulance was quickly summonsed to the track and while Matt was receiving attention, it was Oli Sidwick who outpaced Aaron Smith in an incident free re-run.
After being checked out at Poole Hospital A & E Matt Mildon was treated for a broken nose, facial lacerations and abrasions but thankfully earlier fears about concussion did not materialise and he was discharged after two hours.
Senior
Mark Carmichael 20, Chris Shylock 18, Dan Bock 17, Matty Szymczak 16, Will Bristowe 14, Andy Yard 13, Andy Hill 13, Pete Chant 12, Dan Winchester 12, Josh Robertson 11, Olli Sidwick 10, Hayden Chant 10, Dave Murphy 9, Alex Matthews 7, Ethan Day Lewis 6, Jim Collier 6.
U16
Arron Morgan 20, Olli Sidwick 17, Arron Smith 17, Matt Mildon 17, Will Bristowe 16, Zac Payne 16, Hayden Chant 15, Jordan Richardson 13, Alex Matthews 13, Alex Lane 10, Adam Bennett 10, Ethan Day Lewis 10, Callum Smith 8, Joe Sidwick 7, Sam Lane 6, Robert Turner 5.
Referee - Mike Legge.