| |
Riders basked in the sun and their achievements at the Welsh MTB XC Round 3 and Championship event at Fforest Fields in Mid Wales. Fantastic weather, a stunning venue and a course worthy of its Championship status and praised by the riders, made for a great day of mountain biking with many new Welsh Champions crowned.
The 5km course had dried out well in the days leading up to the event and, despite two stiff climbs and long sections of twisting single-track, a fastest lap time of just under 16 minutes was recorded by Team Elite's Dan Evans in the Senior Men's race. Wishes for a speedy recovery go to Megan James who clipped a tree on the first descent – fortunately nothing was broken.
As usual the U8s and U10s were up bright and early to get the day off to a blistering start, weaving their way along wooded single-track, before an out-of-the-saddle farm track climb and a sweeping grassy descent back to the event arena. Local boy Alfie Davies continued his winning ways in the U8 race to finish with a lead of nearly 2 minutes but Anwen Nesham was pushed all the way by Alaw Lewis and Faye Williams, with only 16 seconds covering the three. And it was close in the U10 race too with winner Griff Lewis harried from start to finish by Huw Buck-Jones and Evelyn Higgins-Worrall biding her time on the wheel of Heledd Hunt and then upping the pace on the final lap to take victory.
Local boy Iwan Evans led the U12s up the grassy climb out of the arena at a jaw-dropping pace but it was Timothy Freeman from North Wales who appeared through the trees first to start their second of two laps on the single-track lower section of the main course. And leading girl Josie Nelson was in fifth place amongst the boys. Both held onto their lead to take their respective Welsh U12 Championship titles.
A fast first lap of the main course gave Sol Kerfoot-Robson the edge over Oscar Mingay in the Juvenile race, with Nicole Clarke heading the girls. Putting recent health problems behind him Tomos Nesham was pushed hard in defeating defending Youth Champion Jack Broadley and, like Youth Girl Lowri Thomas, was thrilled to take the 2014 title. Challenging the Senior Men, Dylan Kerfoot-Robson was a comprehensive winner in the Junior Men's category with fellow ODP rider Ffion James taking the Junior Women's title.
Lee Williams' run of Championship victories came to an end as Dan Evans put in a blistering first lap that had Williams 50 seconds in arrears and, despite gaining time mid-race, it was too little too late and Evans soloed to the 2014 Senior Men's title, with Mel Alexander the convincing winner of the Women's race. Grant Johnson retained his Grand Veteran title and Phil Morris improved on his silver medal of 2013 in the Masters category but defending Veteran Champion Mark Spratt had to settle for second place behind Chris Kay. Event organiser John Lloyd was unable to peg back a 30 second deficit after the first lap coming within 6 seconds as Lynn Lines crossed the line to take the Super Veteran title.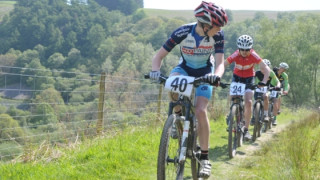 Ry McGrath won the non-Championship Sport category race and completed an additional lap to finish 8th in the Senior Men's Championship. A minute down on Clare Dallimore after the first lap Donna Morris rallied and a faster final lap saw her cross the line with a lead of just 6 seconds. Roy Davis took victory in the WMBS Veteran race.
Well done to all our 2014 Welsh Champions and many thanks to John Lloyd and his team, Jay and Maddie of Fully Sussed and to George Barstow, the owner of Fforest Fields, for allowing us to use such a great venue.
Results
Under 12 Boys
1. Timothy Freeman Dreigiau Coed y Brenin
2. Iwan Evans Towy Riders
3. Scott Williams Clwb Beicio Mynydd Dyffryn Conwy
U12 Girls
1. Josie Nelson Solihull CC
Juvenile Male
1. Sol Kerfoot-Robson Marsh Tracks Race Team
2. Oscar Mingay Cardiff JIF
3. Joseph Beckingsale Abergavenny RC
Juvenile Female
1. Nicole Clarke Birkenhead North End CC
2. Katie Hesden Dreigiau Coed y Brenin
Youth Male
1. Tomos Nesham Cardiff JIF
2. Jack Broadley Cardiff Ajax
3. Simon Price Marsh Tracks Race Team
Youth Female
1. Lowri Thomas M and D Cycles
2. Phoebe Hughes
3. Lucy Lee Marsh Tracks Race Team
Junior Male
1. Dylan Kerfoot-Robson Marsh Tracks Race Team
2. Jacob Phelps Cardiff Ajax
Junior Female
1. Ffion James Abergavenny RC
Senior Male
1. Dan Evans Team Elite
2. Lee Williams Gateway Racing
3. Daniel Lewis RAF CC
Senior Female
1. Melanie Alexander Contessa/Scott/Syncros
2. Ruby Miller TORQ Performance
3. Ruth Owen-Evans
Master Male
1. Phil Morris xcracer.com
2. Lee Davies Cycle-Tec
3. Ross Farley Gateway Racing
Veteran Male
1. Christopher Kay Fibrax Wrexham RC
2. Mark Spratt Cardiff JIF
3. Timothy Davies CC Abergavenny
Grand Veteran Male
1. Grant Johnson Sunset Cycles
2. Dafydd Roberts
3. Ross Porter Cwmcarn Paragon
Super Veteran Male
1. Lynn Lines Gateway Racing
2. John Lloyd John Lloyd Racing
3.Phil Harries Cardiff Ajax