|
---
This June, cycling enthusiasts of all abilities will have the opportunity to ride the 'Road of Champions' as they tackle the same course the stars of British cycling will ride in pursuit of the ultimate crown - British Cycling National Road Race Champion 2014.
The exciting new sportive - a mass participation event - will take people on a unique journey around one of the most historic counties of Wales, Monmouthshire.
And the course isn't the only challenge riders will face. For the first time ever, the Championship Sportive will feature multiple starting points. Riders will need to make the hard decision of which stunning Monmouthshire location they wish to start from: Abergavenny, Chepstow, Monmouth or the luxurious Celtic Manor Resort.
The Championships Sportive takes place on Saturday 28 June 2014, with the women's and men's British Cycling National Road Championships race taking place the following day. Entrants can ride the route one day, stay over at one of the county's superb accommodation venues and then get prime position the next day to watch the best of British go for gold.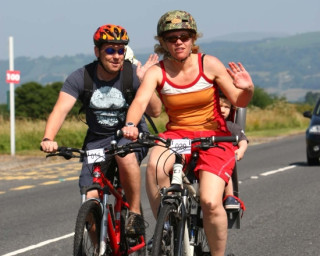 There are carefully crafted routes for all abilities: a ladies-only course (41 miles), bronze (20 miles), silver (50 miles) and for those who want a serious test of endurance and skill, a gold course (100 miles).
Organiser of this year's championship events and member of British Cycling's Board of Directors, Bill Owen, said:
"This year's gold sportive route will feature one of Wales' most feared climbs – the Iron Mountain, or the Tumble as most cyclists know it. It's a real test of endurance and has seen many a duel from Britain's best riders. The 2009 championships saw it as the battleground for Cav, Wiggins and Froome as they fought for the title which was eventually won by Kristian House. For those with the stamina and strength to give it a go, you won't be disappointed. It really is a measure of your mettle."
Entries for the Championship Sportive are now open but going fast. To sign up for one of the top sportives of the year visit www.nationalroadchamps.co.uk and ride the 'Road of Champions' before the champions do themselves!