---
Dates are set for a new south-Wales women's circuit series in the Vale of Glamorgan, inspired by female riders. And more racing is planned for women in North Wales which demonstrate a growth in women's racing opportunities this year.

Women's circuit racing is coming to Llandow, Marsh Tracks and Pembrey in 2014
The Café Velo Women's Circuit Series will comprise five women-only races at Llandow Circuit in the Vale of Glamorgan from February-April.
And women's racing will feature in North Wales at the Race to the Spring Series in March oragnised by Rhos on Sea Cycle Club, and in West Wales at the summer Tuesday-evening Pembrey Circuit Series.
A further women's race will take place at the Great Orme, a closed circuit road race in Llandudno, in September organised by Rhos on Sea.
North Wales-basd club VC Melyd is planning to run a seperate women's series as part of the upcoming Edge Cycleworks Marsh Track Summer Series, with added events later in the season all making for an exciting period for women's racing.
The Café Velo Women's Circuit Series is being organised by BC member Hannah Pole to help address a gap in female-friendly racing with support from Cardiff JIF, Forza Cycles, and Café Velo.
To help meet event costs, the series will be incorporated into stand-alone events already taking place at the circuit. The dates are:
Sunday, 23 February: Forza Season Opener
Sunday, 1 March: Café Velo Sunday Bimble
Sunday, 9 March: Sam's JIF Princess of Wales Ride 1
Sunday, 23 March: Cardiff JIF Lungopener/Sam's JIF Princess of Wales Ride 2
Sunday, 20 April: Café Velo Sunday Sprinter
The Series is sponsored by Café Velo with an aim to give both experienced and novice female riders a chance to compete against like-minded women in a safe, friendly environment ahead of the main road season.
More experienced riders can double up and take part in the main races.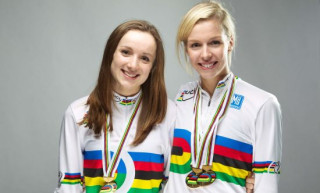 Photo: Steve Pope. Track World Champions Elinor Barker and Becky James are inspiring women to give racing a go

Support for new riders and charity contribution
For those new to competition, there will be support on the day from female riders, including a female-friendly rider briefing before racing offering a chance to meet other women.
Entry fees have been kept the same across all rounds to offer riders consistency and will be put towards series prizes as well as venue costs.
A portion of the entry fees from Rounds 2 and 3 will go towards the Princess of Wales Hospital, who treated young Bridgend-based rider Sam Beckett of Cardiff JIF after a cycling accident last year.
Series organiser, Hannah Pole, said: "This year will be a test, but we know there are a number of experienced female riders in Wales who'd benefit from more local racing opportunities with other like-minded women.
"There are lots of female riders out there training on their own or part of clubs who might want to give racing a try. However for some, the prospect of turning up at your first race or having to sit in with more experienced or male riders can be daunting and intimidating for someone new.
"Equally, we hope to provide an atmosphere that is beneficial to more experienced riders without being patronising. This is chance for women to come together to show their support for female racing opportunities and start the ball rolling for more women-only racing in future."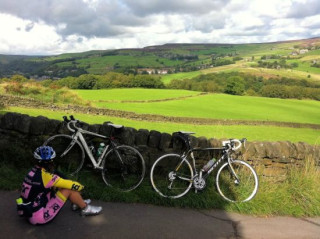 Women's road and circuit racing is on the rise with more women taking to cycling

Series prizes will be awarded at the final round
Racing will be between 30-40 minutes and will vary slightly according to the event hosts. Race-day prizes may be awarded subject to entry numbers and at the discretion of the event hosts.
Series prizes will be awarded at the final round at the Café Velo Sunday Sprinter on Sunday, 20 April. Points will be awarded across all rounds, and taken from riders' top four best finishes.
However, two rounds of the series will be held at the final event on Sunday 20 April to encourage riders to attend. These will be made up of two 20 minute races, 40 minutes apart to add variety to racing.
"We don't want riders to be penalised if they can't make every round because of other commitments," explains Hannah.
"However, we hope that more experienced riders will do their bit, come along to some and support those who might be new to it.
"We'll be running a female-friendly rider briefing before racing at most events, to help break the ice for anyone new to it all," she adds.
"If you're really unsure about how it all works or what racing is like, come along to the briefing, chat to some friendly female reps and meet other women who've done it."
Race-day prizes may be awarded subject to entry numbers and at the discretion of the individual event hosts.
Any women who don't wish to race but would like to come down to support would be welcomed. Any questions or queries can be directed to Hannah Pole at hpole@live.co.uk.
"We don't know what to expect in terms of numbers yet," adds Hannah, "but we hope any female rider who believes in more opportunities for women to get on a bike and race, and wants to see female racing grow, comes along to support.
"Even if you've done it a million times before, you might just inspire someone new to give it a try."