|
---
Women's cycling is on the rise across Wales, with coaching activities and dedicated races for female competitors planned for 2014.

The first women's race coaching day at Marsh Tracks, Rhyl took place earlier this month and was attended by over 30 female cyclists with a wide range of experience and abilities.
The session, organised by Heather Bamforth, was part of a series of events aimed to increase the confidence and ability of female riders so they would feel able take part in competitive races in the future.
Heather plays a key role in the organisation and promotion of women's road races as part of the Cycling Development North West Road Race League "I had been keen to bring Huw Williams' sessions to the North West for a while and after the sessions last August, many people said they struggled to get to Tameside because they lived in different areas. So when Carley Brierley asked me whether I would be interested in hosting the sessions with her, we both knew that we had to host the sessions in multiple locations."
The session in Marsh Tracks was coached by Heather along with British Cycling Level 3 coaches Huw Williams and Carly Brierly, with support from the ladies at Matrix Vulpine Race Team.
"Having raced at Marsh Tracks for the first time last year, I knew what a fantastic training facility it was, and that by using the circuit we could draw in riders from Merseyside, Cheshire and North Wales." Heather explained.
"My mission is to ensure women have opportunities to compete in road races and many are put off by other riders, often male competitors, telling them how hard it is to compete in a road race. These sessions have hopefully given the riders confidence in their own abilities which will lead to more women taking up competitive cycling."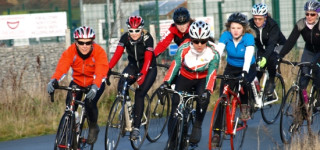 In unseasonably good conditions, the session began with basic group riding skills which gave the coaches an idea on the ability of the riders. Using the 400m closed circuit facility, groups worked in pace lines and chain gang formations with the circuit's tight corners providing a challenge to the riders. Great improvement was seen in the close riding groups, and the coaches moved on to cornering skills with advice given on gear selection and accelerating out of the corners.
Towards the end of the three hour practical session, Huw upped the ante with some group pursuit efforts on the circuit, followed by some hotly contested racing on the main circuit. The day concluded with an informative talk on race training and planning by Huw which was well received by all participants. They left Marsh Tracks more confident riders and gained valuable experience.
There are more opportunities available in North Wales this season to build your confidence and skills ahead of competition.
Coaching sessions at Marsh Tracks
Mixed session at Marsh Tracks, Rhyl
Every Thursday 7.00pm – 9.00pm
Women-only session at Marsh Tracks, Rhyl (starts 6th April 2014)
Every Monday 7.00pm – 8.00pm
Women's Led rides
Every Saturday
Meet at 10am at the Nature Reserve car park, Rhuddlan
For more information email soverson@aol.com
There will be a women's race series at Marsh Tracks in June 2014 with further dates to be confirmed. Entries will soon be available online.
The CDNW also has eight women's races as part of the 2014 CDNW Road Race League with an emphasis on encouraging those new to road racing to take part. For more information, click here
Our North Wales Cycling Development Officer, Ann Williams is setting up a forum to boost female participation in cycling across North Wales, get in touch by 12th February 2014 to share your ideas. Email eirwen.williams@welshcycling.co.uk or call 07850 937848.