| |
---
Welsh Cycling is urgently calling for new volunteers to train as accredited marshals and help make cycle racing on the highways considerably safer.
NEGW 'moto' CSAS marshals in team briefing before a race
If you regularly attend cycle events but want to be more involved, or have an interest in being part of the race team or controlling a race, or if you're a motorcyclist or cycle supporter and genuinely want to do something different, worthwhile and rewarding, then becoming an accredited marshal could be your next step.
The Community Safety Accreditation Scheme (CSAS) is an initiative run by Welsh Cycling in association with police that trains and empowers marshals to legally stop and direct traffic at competitive cycle events.
CSAS marshals play a very important role in road racing by controlling traffic at major junctions, roundabouts, narrow bridges and making other highway hazards safer for riders to pass.
The scheme enables both moto and static marshals to exrecise these powers, but more are urgently needed to meet demand for road racing across Wales in 2014.
Both motorbike (mobile) CSAS marshals, and static (stationary) CSAS marshals are required.
They are the only volunteers in cycling legally insured to manage other road users during cycle racing.
Marshals with a police, motorcycle, or health and safety background are generally at an advantage, but anyone reliable, with confidence leading others and the skills to think on the spot, make quick decisions and be part of a team, can apply.
Training courses are free, and there will be two opportunities to join a course in the New Year:
Saturday, 25 January (Gwent, Newport University Caerleon Campus)
Saturday, 8 March (Carmarthen, venue TBC)
North Wales (date before May 2014 and venue TBC) * please note Gwent has needed to cancel 8 Feb, originally scheduled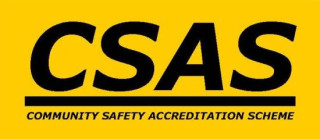 Training
Training is administered and delivered by Gwent Police, who manage the scheme on behalf of all four police forces in Wales.
You'll join a free training day led by experienced police officers, covering modules on health and safety, highway regulations, and communicating with traffic users, before stepping into action to learn how to make practical signals and pratice race scenarios.
To comply with police safety requirements, marshals are required to undergo an easy vetting and security check, and undertake refresher training at annual or bi-annual intervals in order to keep knowledge and skills updated and active.
Once accredited, marshals are given a personal high-visibility uniform from Welsh Cycling which they wear at races, complete with accreditation badge, and free bronze membership of British Cycling.
Expenses are paid, and all marshals receive a small sum in line with national minimum wage for their contribution to each race they attend.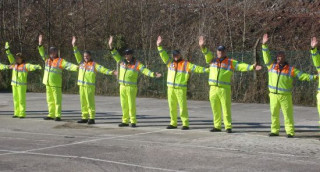 Static marshals in training; marshals are required to wear uniform and make clear hand signals
Static marshals
Static marshals are key to supporting mobile motorbike marshals. They are often stationed at major roundabouts and busy junctions where they can hold traffic well in advance of the race passing.
As they are always stationary they can help to talk to drivers and explain that a cycle race is taking place, important for developing understanding. They often work with other static marshals in pairs to allow bunches of riders to make right hand turns, where there might be oncoming traffic.
Static marshals undertake the same CSAS training course as mobile marshals.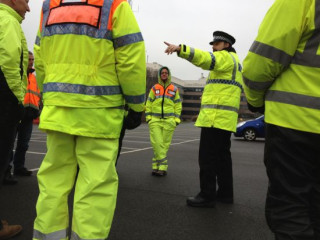 Training is delivered across Wales by an experienced police trainer from Gwent Police
Motorbike marshals
If you're an experience moto-rider with an interest in supporting cycle events, then become an accredited marshal coukd enable you to enjoy time on your bike, become part of a team of like-minded riders and be rewarded.
Motorbike marshals are expected to become members of the National Escort Group Wales (NEGW) and receive additional expenses to assist the maintenance of their vehicles.
Moto-marshals must dismount their vehicles before stopping or directing traffic, and in such cases are often required to overtake the bunch throughout racing. With this added responsibility of being part of the race convoy, moto marshals are required to pass NEGW training to demonstrate skills on the bike.
Anyone moto-riders with experience of cycle races has an advantage, but experience can be gained by first attending free CSAS training, and then being mentored at races with an experienced NEGW member.
How to apply
To apply, complete an application form