Video: Malwyn Ransom
Results: Radnorshire Road Race
---
A win for Jon Mould at a Radnorshire Road Race means the rising Team UK Youth 22 year-old clinches the 2013 Welsh Senior Men's Road Race title.
Gerallt Allen (Marsh Tracks Race Team) is crowned Junior Welsh Road Champion.
Jon Mould (Team UK Youth) wins the Radnorshire Road Race and is 2013 senior Welsh Champion. Photo: Huw Fairclough
Mould had to work to bridge the gap to a small lead six-rider field which formed quickly after the first mile, setting a furious pace which was maintained for nearly two full laps.
It included Hefin Price (NFTO), Daniel Davies (Teamwallis CHH Racing Team), Lee Williams (Gateway Cycling), Rhys Howells (Twenty3c.co.uk-Focus) and David Bees (Forza Cycles Racing Team).
Their pace split the chasing field, and they were later joined by a group of six chasers which included the eventual winner, Mould. He was joined by Gruffudd Lewis (Metaltek, Knight of Old Racing), Hugh Wilson (NFTO) and William Haynes (Herbalife-Leisure Lakes).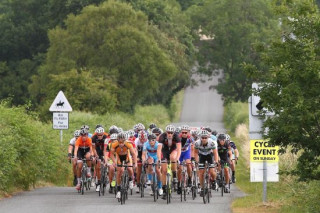 Racing comprised four laps of a rolling course from Llandrindod towards Rhayader. Photo: Huw Fairclough
On the final lap and with 10 miles to go, a further attack fractured the leading field, leaving the front runners to battle it out to a sprint finish comprising Mould, Wilson, Lewis, Haynes, Howells and Davies.
In what quickly became a fast and fierce sprint for the line in front of the cheering crowds gathered at the finish on Ddole Enterprise Park, it could have been anybody's race, but a gritty attack from Mould saw him snatch the win and the Championship title.
He was closely followed by Hugh Wilson and Gruffudd Lewis, whose 2nd and 3rd place wins earned them silver and bronze Championship spots respectively. Haynes, Williams, and Howells finalised the top six finishing spots.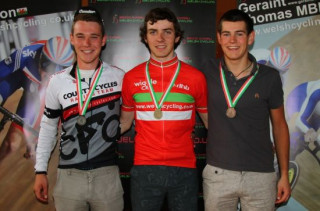 Juniors: Rhys Thomas (County Cycles) 2nd; Gerallt Allen (Marsh Tracks Race Team) 1st; Daniel Colman (West Wales Cycle Racing) 3rd. Photo: Huw Fairclough
Further notable rides came from Davies (Teamwallis), who took 7th place, followed by Giles Drake (Herbalife-Leisure Lakes), John Cooper (Wolverhampton Wheelers), Vincent Thomas (Forza Cycles Racing Team) and Bevan Humphreys (Urban Cyclery), who all followed in over a minute later with Bees (Forza) not far behind.
Their early efforts set the tone for the rest of the peleton, and several riders were clearly tested by the 75-mile fast, rolling circuit which snaked through undulating lanes from Llandrindod, Crossgates, Llanyre and towards Rhayader. Of 69 riders starting, 47 finished.
A 25th place finish for Gerallt Allen saw him clinch gold in the Junior Men's Championship, followed by Rhys Thomas (County Cycles), silver medallist, and Daniel Colman (West Wales Cycle Racing Team) who took the bronze.
See the final results here.
See photos of the race at the Welsh Cycling Facebook page, courtesy of Huw Fairclough.
Quick results:
1. Jon Mould (Team UK Youth)
2. Hugh Wilson (NFTO)
3. Gruffudd Lewis (Metaltek - Knights of Old Racing)
4. William Haynes (Herbalife-Leisure Lakes bikes.com)
5. Lee Williams (Gateway Cycling)
6. Rhys Howells (Twenty3c.co.uk-Focus)
7. Daniel Davies (Teamwallis CHH Racing Team)
8. Giles Drake (Herbalife-Leisure Lakes bikes.com)
9. Hefin Price (NFTO)
10. John Cooper (Wolverhampton Wheelers)