| | |
Welsh cyclists Elinor Barker, Amy Roberts and Hayley Jones will this week represent Great Britain at the 2012 UCI Junior World Track Championships in New Zealand.
The five day competition is being held at Stadium Southland Velodrome, Invercargill, with the first event on Wednesday 22nd August. After the recent success of Team GB at London 2012, the Junior riders have been inspired by their performance and hope to build on their success for the future.
Elinor Barker from Cardiff will compete in the Individual Pursuit, Team Pursuit and Omnium events. She is currently the European Individual Pursuit champion and European Team Pursuit champion, earning both titles in Portugal earlier this year.
"I'm really excited, but once I get to the track in New Zealand I'll be able to get my head down and focus. I have never competed against anyone outside of Europe so it will be a great new experience. I watched Laura Trott perform at London 2012 in the Omnium, which is also my event. She came through the Olympic Development Programme, and now has two Olympic gold medals. This makes me think if she can do it, then why not me?"
Elinor Barker in training with Head Coach Darren Tudor before departing for New Zealand

17 year old Amy Roberts, from Carmarthen, will unite with Elinor in the Team Pursuit after their European success. Amy will also compete in the Scratch race and Points race where she is hoping for medal success.
"It feels amazing to be selected again to represent Great Britain. After the success of Team GB at the Olympics, putting on the Great Britain cycling jersey feels even more of an honour. I was inspired by the performance of the Women's Team Pursuit, and I hope to one day reach that level on the track. Training at Newport Velodrome with our coach Darren Tudor has prepared us for the competition. He has done a lot with our programme alongside our ODP coach Matt Winston, so I hope we can bring back some medals!"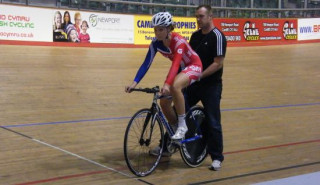 Amy Roberts at Newport Velodrome with Head Coach Darren Tudor

Hayley Jones, 16, will make her debut for Great Britain. The young cyclist, originally from Port Talbot, now lives in Australia with her family, but is keen to represent Great Britain competing in the Individual Pursuit and joining Amy and Elinor to complete the Team Pursuit group. She won gold with the Under 19 Queensland team at the Australian Track Championships in January, which bodes well for the team.
Darren Tudor, Head Coach at Welsh Cycling, feels it is a great opportunity for the junior women to develop after their success at the European Championships.
"It's important for the junior women to improve on their personal performances, rather than focussing on results. All three riders will be doing a lot of racing in New Zealand, with Elinor needing to perform consistently in all the Omnium events. They performed well in the European Championships, and this is an opportunity to move on to the next level in their progression. Amy and Elinor are both in good shape for the competition and have the speed to get results. As long as they enjoy the experience the results will follow from that."
Matt Rotheram and Jon Dibben will also represent Great Britain at the competition, competing in sprint and endurance events respectively.
Competition opens on Wednesday with the Women's Team Pursuit in action. The riders will then compete individually over the weekend in their events. All results will be available online from www.juniorworlds2012.com and on the British Cycling website.