From Maindy to Mont Ventoux, S4C's Seiclo commentator Wyn Gruffydd has keenly followed Geraint Thomas's development from child prodigy to Olympic gold medallist and a prominent part of a Tour de France winning team.
Reigning champion Chris Froome will be going for a third career win this year and his bid for the yellow jersey on the Champs-Élysées, will be supported by Welsh Team Sky teammates, Geraint Thomas and Luke Rowe, both from Cardiff.
Both Thomas and Rowe were part of the capital's Maindy Flyers Youth Cycling Club as young riders, and Wyn, whose son was a member of the club at the time, recalls seeing some of Thomas's early races. Once again, Wyn will be part of the S4C Seiclo team as they follow all 3,519 kilometres of the race, with live coverage and highlights of each stage.
"When Geraint started out on the track in Maindy, it was clear then he was very determined," said Wyn, who lives in Llangain in Carmarthenshire. "Looking at his size at the time, I thought it may have been the bike that won the race and not the young lad on the bike. It's phenomenal seeing him perform on the international stage now. It's interesting that he's a product of Whitchurch High School, like Sam Warburton and Gareth Bale."
As well as Thomas and Rowe, Olympic road race champion Nicole Cooke, and 2016 Rio Olympics hopefuls Elinor Barker and Owain Doull, have all been Flyers at one time or another.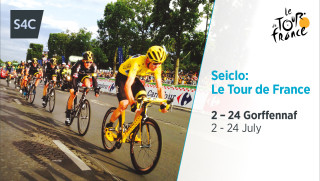 Leading the Seiclo presentation team again this year is Rhodri Gomer, while Llinos Lee will be giving us the latest news from the peloton. The ap Gwynedd brothers, Rheinallt and Peredur, who are both well-known musicians, will be co-commentating, alongside Wyn Gruffydd, John Hardy and Gareth Rhys Owen. Madison Genesis cyclist Gruff Lewis, from Talybont near Aberystwyth, will also offer expect analysis and insight during commentary.
"I enjoy working on the Tour de France. Sharing the commentary box with Gruff and the ap Gwynedd brothers is so much fun. Rhodri Gomer is a big fan of the sport too. He even climbed the legendary Alp D'Huez recently. We are a team that get along well and hopefully that shows in our informed and relaxed coverage."
You can watch the Tour de France live on S4C from Saturday 2 July. Live coverage will begin at 2.00pm with highlights at 10.00pm each night.
Want to get involed in cycling? Find your local cycling club at britishcycling.org.uk/clubfinder