Porthcawl is set to host the Prostate Cymru Welsh Cycling Criterium Championships on Sunday 20 September, with top Welsh riders set to do battle on the seafront for the Welsh champion's jersey.
The Bridgend coastal town will welcome the 2015 championship event at the weekend. The 1km circuit will begin on the promenade, taking riders through the town centre with a few twists and turns on the way providing spectacular racing for competitors and spectators.
Fresh from the Aviva Tour of Britain, Dale Appleby, NFTO Pro Cycling will be taking to the start line in Porthcawl along with British Cycling Elite Circuit Series winner Jon Mould, ONE Pro Cycling, and Welsh Road Race Champion, Stephen Williams, Pedal Heaven, in a bid to win the Welsh title.
The youth and junior categories will be hotly contested, as riders vie for victory late in the season. The NFTO Junior Tour of Wales Points jersey winner Joe Holt, County Cycles RT will be looking to secure a win in Porthcawl, as will fellow County Cycles RT rider Will Roberts. There is a strong presence from Welsh cycling clubs including Cardiff JIF, Cwmcarn Paragon and West Wales Cycle Racing Team.
Event organiser, David Lloyd said: "There is a great line up of top Welsh riders coming to Porthcawl from Britain's best cycling teams like ONE Pro Cycling, NFTO Pro Cycling and Pedal Heaven providing a spectacular race on the seafront.
With support races for local school children in Bridgend and family fun runs earlier in the day it will be a fantastic day of sport for the town. We have received a lot of support from charity Prostate Cymru and both Bridgend County Borough Council and Porthcawl Town Council in the run up to the event, and we look forward to welcoming competitors and spectators to Porthcawl."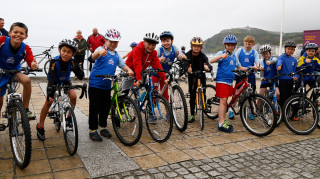 Leader of Bridgend County Borough Council, Councillor Mel Nott OBE said: "Cycling is an extremely popular sport within Bridgend County Borough, from the testing climbs of the valleys to the wonderful coastal views, so we are pleased to offer our support for this event which promises to be an exciting spectacle.
"In addition to the elite race, it will be great to see cyclists of all ages taking part earlier in the day too."
Racing will begin at 11.30am for young riders, with Women and Masters underway at 2.45pm with the Elite Championship at 4.30pm. There will also be Go Ride Racing for local children who want to have their first taste of racing from 1.00pm.
With over 100 clubs and 5000 members in Wales, the Prostate Cymru Welsh Criterium Championships offer a great opportunity for the cycling community to come together and support the event. Entries will be available on the day, but riders will not be able to compete for the Welsh Championship title.
Bridgend County Borough Council is advising visitors to the event, and local residents, that there will be a number of temporary road closures in place on Sunday 20 September.
From 6.00am to 7.00pm, the road along the seafront will be closed from the junction between The Green Avenue and The Esplanade through to the junction between The Portway and the Eastern Promenade.
Well Street and Lifeboat Road will also be closed, as well as parts of The Square, John Street and Mary Street. Temporary diversions will be in place.