---
Britain has qualified the maximum rider quota to Olympic track cycling events following a long-awaited rule clarification by the UCI and will take the maximum of eight men and six women, with the disputed extra riders – as set out in the original qualification document – now confirmed to be coming from another cycling discipline.
A press release on April 25 confirmed an earlier letter from UCI Track Co-ordinator Gilles Peruzzi, which came following initial confusion with the original numbers quoted in the qualification rules stating there were available places for nine men and seven women.
However, it was later pointed out the system only allows eight men and six women to qualify, which forced an amendment to the rules with the extra one rider from each gender being drafted in from one of the other cycling disciplines to allow a maximum of nine men and seven women to compete.
IMPACT
British Cycling's Sports Engagement Manager, Doug Dailey was always confident of qualifying the maximum number of riders to the Olympics in 2012, however, he says the amendment does have a knock on effect, especially in the sprint disciplines.
"We were always confident in qualifying – even if the wheels came off at the world championships we still had a handy buffer for all ten Olympic events" Dailey said, before detailing the strategy behind achieving the maximum of qualified riders.
"This is due to the investment of time and effort in the first year of the two year qualification period. We travelled with sizeable teams and quality athletes in the first year. We built up a healthy points score, before becoming a little more strategic and refraining from travelling all around the world.
"However, despite our planning, this amendment has an effect; it would seem that this ruling has the greatest impact on the sprint events as these events are so specific to the track, it's difficult to see what a rider form another discipline could offer."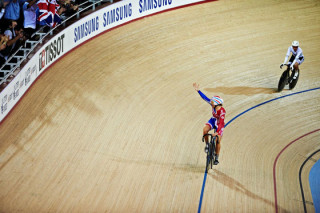 A knock-on effect came from the implementation of the continental limit imposed on each competing nation.
For example, there is a maximum number of ten nations who can compete in the men's team sprint. This is further sub-divided into how many can compete from each continent. In the case of men's team sprint, 5 from Europe, 2 from America, 2 from Asia, 2 from Oceana and 1 from Africa. As an example, even though the Netherlands qualified tenth in the team sprint, because Great Britain, France, Germany, Poland and Russia all qualified above them, they weren't given a place and this was instead awarded to Venezuela who qualified one place behind them in eleventh. This is the first Olympic Games in which this new system of qualification has been implemented and one which British Cycling's Olympic Track Sprint Programme Coach Iain Dyer, analysed.
"The question the IOC need to ask themselves is whether the Olympics should display the best that human endeavour has to offer in a final; or display a good spread around the world of what other continents are capable of doing. That's two very different things and that's why we are in the situation where world championships in our sport and other sports are delivering a far higher and stronger level of performance."
The numbers allow for 10 national teams in the team events and 18 individual riders in the individual events (sprint, keirin and omnium). Due to the fact that an automatic qualification is given to each nation who have qualified in the team sprint to ride in the individual sprint and keirin, this means that there will be a total of 188 riders in the velodrome during the six days of competition in August, representing 34 different nations.
National Olympic committees must now confirm that they will use all their places by June 15, failing which, a place will be awarded to the nations marked as reserve.