Laura Trott takes a break from the track until 2012
---
Laura Trott's medal performances at round two of the UCI Track World Cup have marked the final velodrome appearance of the year for the Team Pursuit World Champion.
Trott's on-bike training schedule will now consist of road and indoor trainer sessions only, as she escapes Britain's cold winter conditions in favour of a week-long training camp in Majorca, before returning to Manchester's velodrome in 2012.
Speaking after racing at the Cali World Cup, Trott talked of three days of physically and mentally demanding racing not initially part a 2011 campaign, which was due to end in October following the European Championships.
However, racing became a necessity following Lizzie Armitstead's decision to focus exclusively on the Olympic road race and Trott was drafted in to firstly line up in the team pursuit alongside Wendy Houvenaghel and Sarah Storey.
A qualifier held in windy conditions on the open-sided velodrome left Trott with mixed feelings – relief at making the final on unknown form, but with work to do to take the win after posting the second-best time.
"I was riding better than I thought, but qualifying was tough," Trott said, before going on to describe the problems caused by the conditions.
"Although I said I would race man three, I raced man one because I was the most experienced in the team. The race was at altitude and that made it too risky to put an inexperienced rider at the front; while the thin air makes it faster to start, that can mean you pay the price in the final kilometre – pacing was essential.
"Qualification was so windy we couldn't even ride with a front disc wheel – the wind was so much we would be blown over the red line. With all that, I was relieved the team made the final – it wasn't our A-team and I knew we put together better rides in training."
Following the first performance and armed with race data, Coach Paul Manning stepped in to reassure a team Trott described as initially uncertain about their ability to come back and win the final.
"When we stepped off of the track, everyone was talking about how New Zealand cruised to their time and I was worried we couldn't win. But once we had sat down and seen the video, I knew they could only ride a second quicker. Next we made some changes to the way we raced.
"We adopted a different plan, we used an easier gear, we changed the length of the turns and we rode to a plan for six laps; the plan came good. In the final I saw we were leading, took my turn at the front and went flat out to the line."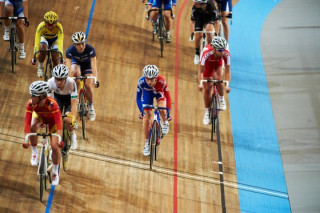 OMNIUM
Such an effort was telling on the legs for the next part of Trott's World Cup campaign, but with an increased level of confidence she lined up knowing an average of fifth place would be enough to make the podium.
The decisive moment came in a points race already seen as dangerous by Manning and one where Trott had to prove her worth to stay in the competition.
"In the points I had a plan, because of the altitude I would miss the first two sprints, then start racing, but Paul told me to keep an eye on Tara Whitten and Sarah Hammer.
"He told me once they attacked it would be almost impossible to chase down – and they attacked just after the second sprint and got a gap straight away. I was at the back when they got clear and I couldn't get on so I had to go on my own. I was joined by a Mexican girl but it took forever and there were several times when I thought I wouldn't make it.
"Eventually I got round, it was the first ever time I have taken a lap at elite level and it was so hard, by the time I got back on I was seeing stars; but getting that lap was the difference between reaching and missing the podium."
Following that performance, Trott went on to finish third in her final competitive track outing before the London Track World Cup in February 2012.