---
A whole host of Britain's top riders will line up at the National Track Championships next month when it returns to Manchester in front of an expected sell out crowd at the National Cycling Centre between September 28 and 2 October.
Four time Olympic Champion Sir Chris Hoy tops the list of big names and joins his Team Sky Track Cycling colleagues Jason Kenny, Ross Edgar, Matt Crampton and newly crowned Junior World Champion John Paul in the sprint events. Victoria Pendleton will be the clear favourite to add to her ten national titles in the Women's Sprint but will face stiff competition from her GB teammates Jess Varnish and Becky James.
In the women's endurance events, national Road Race Champion Lizzie Armitstead will face off against a strong field with her GB colleagues Jo Rowsell, Sarah Storey, Hannah Mayho, Dani King and Laura Trott all in action.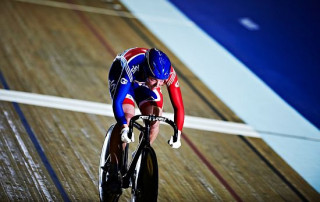 Last year's point race was one to be remembered and more fireworks are expected this time round with a whole host of GB's Academy riders set to take to the boards. Sam Harrison, Jon Mould, Simon Yates, Eric Rowsell, Mark Christian and Tom Moses will all fancy their chances.
Britain's best Para Cyclists will also be in action across the weekend with Jody Cundy, Jon-Allan Butterworth and Sarah Storey all due to compete.
It's not to be missed. Buy your tickets now. British Cycling members can claim 2-4-1 on tickets across the weekend and over the coming weeks we'll have further details of exclusive access for members at the event!
Entry List (as of 15 Sept 2011)
Open 4000m Pursuit
John Brearley Cottingham Coureurs RT
Mark Brown Birmingham University Cycling Club
Steven Burke Team UK Youth
Trevor Burke Finchley Racing Team
Scott Burns Manchester Whlrs Club
Mark Christian 100% ME
Douglas Dewey GWR Team/Swindon Cycles/High5/Kalas/Giant/Joyriders
Jonathan Dibben Hargroves Cycles-Specialized-Trant-Next-Elliott's-GSI
B Xavier Disley Birmingham University Cycling Club
Owain Doull Hargroves Cycles-Specialized-Trant-Next-Elliott's-GSI
Arthur Doyle Dooley's-Cycles.co.uk
Adam Duggleby Science In Sport.com
Benedict Elliott VC St Raphael
Nicholas English AW Cycles
Samuel Harrison 100% ME
Howard Heighton Ferryhill Wheelers CC
Joseph Kelly 100% ME
Llewellyn Kinch GWR Team/Swindon Cycles/High5/Kalas/Giant/Joyriders
Peter Kennaugh Sky Pro Cycling
Scott Macrae Team Leslie Bike Shop - Right Move Windows
Thomas Moses 100% ME
Jonathan Mould 100% ME
Josh Papworth Cult Racing
Benjamin Peacock Johnstone Wheelers CC
Nino Piccoli Team Pedalrevolution.co.uk/Cyclepowermeters.com
Erick Rowsell 100% ME
Alistair Rutherford Science In Sport.com
Andrew Stuart VC St Raphael
Ben Swift Sky Pro Cycling
Alastair Taylor Musselburgh RCC
Dane Walker Blueleaf/Bicycle Smithy
Chris Ward Team Vulco Vaulx-en-Velin
Simon Wilson Cyclepremier.com - Metaltek
Alex Wise Agiskoviner Cycling Team
Adam Yates Science In Sport.com
Simon Yates 100% ME

Paracycling 500m/Kilo TT
Jon-Allan Butterworth Para-T Paracycling Team
Terry Byrne Para-T Paracycling Team
Mark Colbourne M & D Cycles / Specialized
Neil Fachie Unattached
Anthony Kappes MBE Yasumitsu Schlapp
Aileen McGlynn OBE Royal Albert CC
Shaun McKeown GS Avanti
Mazyar Ossmisaeed Unattached
Sophie Thornhill Sport City Velo
Rob Yeatman Team Jewson/Thule/Kinesis/CNP/MI Racing

Women's 500m TT
Elizabeth Armistead Garmin - Cervelo Women's Team
Emma Baird City of Edinburgh RC
Hannah Barnes Motorpoint
Janet Birkmyre XRT - Elmy Cycles
Rosie Blount Derby Mercury RC
Kayleigh Brogan City of Edinburgh RC
Alison Chisholm Edinburgh RC
Katie Colclough
Jessica Crampton Sport City Velo
Jennifer Davis City of Edinburgh RC
Victoria Garrad Swinnerton Cycles
Cassie Gledhill XRT - Elmy Cycles
Louise Haston City of Edinburgh RC
Wendy Houvenaghel Bikechain - Ricci
Rebecca James Abergavenny Road Club
Charline Joiner City of Edinburgh RC
Eleanor Jones VC St Raphael
Dani King Horizon Fitness - Prendas Ciclismo
Hannah Mayho 100% ME
Nicci Meadows AW Cycles
Cheryl Owens AW Cycles
Eleanor Richardson Swinnerton Cycles
Rebecca Romero XRT - Elmy Cycles
Joanna Rowsell Horizon Fitness - Prendas Ciclismo
Sarah Storey OBE Horizon Fitness - Prendas Ciclismo
Laura Trott Moving Ladies Groenewoud Team R & TC
Jessica Varnish Halesowen A & CC
Donna Williams
Victoria Williamson Welwyn Whls CC

Open Points Race
Mark Christian 100% ME
Ian Cooper Planet X
Oliver Davies Planet X
Jonathan Dibben Hargroves Cycles-Specialized-Trant-Next-Elliott's-GSI
Owain Doull Hargroves Cycles-Specialized-Trant-Next-Elliott's-GSI
Adam Duggleby Science In Sport.com
William Fotheringham Halesowen A & CC
Matthew Haase Cardiff JIF
Samuel Harrison 100% ME
Simon Haynes Unattached
Peter Kennaugh Sky Pro Cycling
Joseph Kelly 100% ME
Jack Kirk Agiskoviner Cycling Team
Chris Latham Planet X
Symon Lewis Edwardes
James Lowsley-Williams Team UK Youth
Scott Macrae Team Leslie Bike Shop - Right Move Windows
David Martin www.TheBicycleWorks.com
Thomas Moses 100% ME
Jonathan Mould 100% ME
Tom Murray Sigma Sport Specialized Cycling Team
Anthony Nash Scunthorpe Polytechnic CC
Chris Nicholson Lotto-Predictor-VC Ardennes
Josh Papworth Cult Racing
Richard Prince Planet X
Courtney Rowe Cardiff JIF
Erick Rowsell 100% ME
Alistair Rutherford Science In Sport.com
James Rutherford TEAMSCIENCEINSPORT
Chris Sherriffs Team Bglobal
Jason Streather VC St Raphael
Alastair Taylor Musselburgh RCC
Jess Wieckowski Team Nemesis GB
Martin Woffindin Cycle Sport Pendle
Adam Yates Science In Sport.com
Simon Yates 100% ME

Women's 3000m Pursuit
Rebecca Aicheler Cardiff Ajax CC
Elizabeth Armitstead Garmin - Cervélo Women's Team
Hannah Barnes Motorpoint
Kayleigh Brogan City of Edinburgh RC
Katie Colclough
Corrine Hall Team Corridori
Louise Haston City of Edinburgh RC
Ella Hopkins VC St Raphael
Wendy Houvenaghel Bikechain - Ricci
Charline Joiner City of Edinburgh RC
Dani King Horizon Fitness - Prendas Ciclismo
Hannah Manley For Viored Brookvex
Hannah Mayho 100% ME
Nicci Meadows AW Cycles
Cheryl Owens AW Cycles
Amy Roberts For Viored Brookvex
Estelle Rogers Rollapaluza CC
Rebecca Romero XRT - Elmy Cycles
Joanna Rowsell Horizon Fitness - Prendas Ciclismo
Ella Sadler-Andrews Horizon Fitness - Prendas Cyclismo
Sarah Storey OBE Horizon Fitness - Prendas Ciclismo
Laura Trott Moving Ladies Groenewoud Team R & TC
Vicki Wade Maxgear RT
Hannah Walker Motorpoint Cycling
Harriet Whewell VC St Raphael

Open Kilometre TT
Kenneth Ayre City of Edinburgh RC
John Bagnall CC Cardiff
Mark Brown Birmingham University Cycling Club
Steven Burke Team UK Youth
Trevor Burke Finchley Racing Team
Scott Burns Manchester Whlrs Club
John Coolahan Team Terminator
Bruce Croall City of Edinburgh RC
Peter Cullen Stirling Bike Club
Jody Cundy MBE Para-T Paracycling Team
B Xavier Disley Birmingham University Cycling Club
Adam Duggleby Science In Sport.com
Bryce Dyer VC St Raphael
Benedict Elliott VC St Raphael
Rowan Elliott VC St Raphael
Sassan Emadi Tunstall Whls CC
Samuel Harrison 100% ME
David Heald VC St Raphael
Joseph Kelly 100% ME
Oliver Lougheed Blueleaf/Bicycle Smithy
John McClelland Agiskoviner Cycling Team
Jonathan Mould 100% ME
Matthew Rotherham Science In Sport.com
Andrew Stuart VC St Raphael
Philip Trodden Unattached
Ieuan Williams CC Cardiff
Alex Wise Agiskoviner Cycling Team

Paracycling Flying 200m TT
Jon-Allan Butterworth Para-T Paracycling Team
Terry Byrne Para-T Paracycling Team
Neil Fachie Unattached
Anthony Kappes MBE Yasumitsu Schlapp
Aileen McGlynn OBE Royal Albert CC
Mazyar Ossmisaeed Unattached
Matthew Plested Team Terminator
Sophie Thornhill Sport City Velo
Rob Yeatman Team Jewson/Thule/Kinesis/CNP/MI Racing

Open Keirin
Kenneth Ayre City of Edinburgh RC
Thomas Baker Team Terminator
David Daniell Motorpoint Pro Cycling
Ross Edgar Sky Track Cycling
Rowan Elliott VC St Raphael
Kian Emadi Tunstall Whls CC
Sassan Emadi Tunstall Whls CC
David Heald VC St Raphael
Ian Henderson Unattached
Philip Hindes Unattached
Chris Hoy Sky Track Cycling
Jason Kenny MBE Sky Track Cycling
Peter Mitchell Unattached
Lewis Oliva Bristol Cycling Development Squad
Chris Pease Manchester Whlrs Club
Stephen Pulford Bush Healthcare CRT
Matthew Rotherham Science In Sport.com
Callum Skinner City of Edinburgh RC
Kevin Stewart Science In Sport.com
Miles Stovold Science In Sport.com
Barnaby Swinnerton Science In Sport.com
Philip Trodden Unattached
Jack Webb CC Cardiff
Ieuan Williams CC Cardiff

Open Scratch Race
Stephen Bradbury AW Cycles
Trevor Burke Finchley Racing Team
Mark Christian 100% ME
Ian Cooper Planet X
Neil Cooper AW Cycles
Oliver Davies Planet X
Jonathan Dibben Hargroves Cycles-Specialized-Trant-Next-Elliott's-GSI
B Xavier Disley Birmingham University Cycling Club
Owain Doull Hargroves Cycles-Specialized-Trant-Next-Elliott's-GSI
Adam Duggleby Science In Sport.com
William Fotheringham Halesowen A & CC
Matthew Haase Cardiff JIF
Samuel Harrison 100% ME
Simon Hayes Unattached
Jack Hibberd Halesowen A & CC
David Jack Twickenham CC
Joseph Kelly 100% ME
Peter Kennaugh Sky Pro Cycling
Jack Kirk Agiskoviner Cycling Team
Chris Latham Planet X
Symon Lewis Edwardes
James Lowsley-Williams Team UK Youth
Scott Macrae Team Leslie Bike Shop - Right Move Windows
David Martin www.TheBicycleWorks.com
Thomas Moses 100% ME
Jonathan Mould 100% ME
Tom Murray Sigma Sport Specialized Cycling Team
Anthony Nash Scunthorpe Polytechnic CC
Chris Nicholson Lotto-Predictor-VC Ardennes
Josh Papworth Cult Racing
James Notley Planet X
Richard Prince Planet X
Chris Pritchard Endura Racing
Courtney Rowe Cardiff JIF
Erick Rowsell 100% ME
Alistair Rutherford Science In Sport.com
James Rutherford TEAMSCIENCEINSPORT
Chris Sherriffs Team Bglobal
Jason Streather VC St Raphael
Andrew Stuart VC St Raphael
Alastair Taylor Musselburgh RCC
Chris Ward Team Vulco Vaulx-en-Velin
Jess Wieckowski Team Nemesis GB
Adam Yates Science In Sport.com
Simon Yates 100% ME
Joshua Yetman Team Tor 2000

Women's Sprint
Emma Baird City of Edinburgh RC
Lauren Brown Border City Wheelers CC
Jessica Crampton Sport City Velo
Jennifer Davis City of Edinburgh RC
Julie Dominguez West Lothian Clarion CC
Cassie Gledhill XRT - Elmy Cycles
Rebecca James Abergavenny Road Club
Victoria Pendleton MBE Sky Track Cycling
Lauren Quenby Newcastle Racing Club 2001/Modern Glass.com
Eleanor Richardson Swinnerton Cycles
Jessica Varnish Halesowen A & CC
Donna Williams
Victoria Williamson Welwyn Whls CC

Paracycling 3km/4km Pursuit
Jon-Allan Butterworth Para-T Paracycling Team
Terry Byrne Para-T Paracycling Team
Mark Colbourne M & D Cycles / Specialized
Jody Cundy MBE Para-T Paracycling Team
Darren Kenny OBE Dave Mellor Cycles
Aileen McGlynn OBE Royal Albert CC
Shaun McKeown GS Avanti
Mazyar Ossmisaeed Unattached
Ian Sharpe Ellan Vannin CC
Sophie Thornhill Sport City Velo
Lora Turnham Unattached
Rob Yeatman Team Jewson/Thule/Kinesis/CNP/MI Racing

Women's Points Race
Hannah Barnes Motorpoint Cycling
Marianne Britten VC St Raphael
Lauren Brown Border City Wheelers CC
Lowri Bunn Abergavenny Road Club
Melissa Bury Maxgear RT
Katie Colclough
Lisa Daly Sport City Velo
Eve Dixon Maxgear RT
Lucy Garner Motorpoint Pro Cycling
Corrine Hall Team Corridori
Ella Hopkins VC St Raphael
Hannah Manley For Viored Brookvex
Harriet Owen Motorpoint Cycling
Hannah Rich Horizon Fitness - Prendas Ciclismo
Amy Roberts For Viored Brookvex
Estelle Rogers Rollapaluza CC
Joanna Rowsell Horizon Fitness - Prendas Ciclismo
Ella Sadler-Andrews Horizon Fitness - Prendas Cyclismo
Laura Trott Moving Ladies Groenewoud Team R & TC
Hannah Walker Motorpoint Cycling
Catherine Wiggins Unattached
Elizabeth Armitstead Garmin - Cervelo Women's Team
Open Sprint
Miles Annon Team Terminator
Kenneth Ayre City of Edinburgh RC
Thomas Baker Team Terminator
John Coolahan Team Terminator
Matthew Crampton Sky Track Cycling
Jody Cundy MBE Para-T Paracycling Team
David Daniell Motorpoint Cycling
Adrian Dent Team Terminator
Ross Edgar Sky Track Cycling
Rowan Elliott VC St Raphael
Kian Emadi Tunstall Whls CC
Sassan Emadi Tunstall Whls CC
Ian Henderson Unattached
Philip Hindes Unattached
Chris Hoy Sky Track Cycling
Alexander James Halesowen A & CC
Andrew Kelly Science In Sport.com
Jason Kenny MBE Sky Track Cycling
Peter Mitchell Unattached
Lewis Oliva Bristol Cycling Development Squad
Michael Partridge CC Cardiff
Chris Pease Manchester Whlrs Club
Lee Povey Team Terminator
Stephen Pulford Bush Healthcare CRT
Matthew Rotherham Science In Sport.com
Callum Skinner City of Edinburgh RC
Miles Stovold Science In Sport.com
Andrew Stuart VC St Raphael
Barnaby Swinnerton Science In Sport.com
Jack Webb CC Cardiff
Adam Welch VC St Raphael
Ieuan Williams CC Cardiff

Open Team Pursuit (Team Manager Entry)
Simon Beldon Team Swift
Mark Brown Birmingham University Cycling Club
Douglas Dewey GWR Team/Swindon Cycles/High5/Kalas/Giant/Joyriders
Graeme Lackford Team Tor 2000
Richard Prince Planet X
John Mclleland Agiskoviner Cycling Team
Andy Swain Cyclepremier.com - Metaltek
Pete Hargroves Hargroves Cycles-Specialized-Trant-Next-Elliott's-GSI - Pete Hargroves
Alistair Rutherford scienceinsport.com
Rusine Heald VC St Raphael A
Rusine Heald VC St Raphael B
Richard Maynard Welwyn Wheelers
Alex Peterson AW Cycles
Guy Swarbrick AW Cycles (Juniors)

Women's Team Sprint (Team Manager Entry)
Charlotte Lunt Sport City Velo
Brian Annable City of Edinburgh RC
Iain Dyer North West Region
Eleanor Richardson Swinnerton Cycles
Rusine Heald VC St Raphael A
Rusine Heald VC St Raphael B
Rusine Heald VC St Raphael C

Women's Scratch Race
Jessica Anderson Maxgear RT
Elizabeth Armitstead Garmin - Cervélo Women's Team
Hannah Barnes Motorpoint Cycling
Janet Birkmyre XRT - Elmy Cycles
Marianne Britten VC St Raphael
Kayleigh Brogan City of Edinburgh RC
Lauren Brown Border City Wheelers CC
Lowri Bunn Abergavenny Road Club
Katie Colclough
Lisa Daly Sport City Velo
Katie Evans Wolverhampton Whls
Lucy Garner Motorpoint Pro Cycling
Corrine Hall Team Corridori
Caroline Harding AW Cycles
Ella Hopkins VC St Raphael
Charline Joiner City of Edinburgh RC
Eleanor Jones VC St Raphael
Dani King Horizon Fitness - Prendas Ciclismo
Hannah Manley For Viored Brookvex
Hannah Mayho 100% ME
Nicci Meadows AW Cycles
Harriet Owen Motorpoint Cycling
Hannah Rich Horizon Fitness - Prendas Ciclismo
Amy Roberts For Viored Brookvex
Estelle Rogers Rollapaluza CC
Rebecca Romero XRT - Elmy Cycles
Laura Trott Moving Ladies Groenewoud Team R & TC
Hannah Walker Motorpoint Cycling
Catherine Wiggins Unattached
Donna Williams

Open Omnium
John Brearley Cottingham Coureurs RT
Steven Burke Team UK Youth
Scott Burns Manchester Whlrs Club
Chris Bush VC St Raphael
Mark Christian 100% ME
Iain Cook VC Londres
Ian Cooper Planet X
Adam Duggleby Science In Sport.com
Samuel Harrison 100% ME
James Holland-Leader Agiskoviner Cycling Team
Peter Kennaugh Sky Pro Cycling
Joseph Kelly 100% ME
Jack Kirk Agiskoviner Cycling Team
Symon Lewis Edwardes
John McClelland Agiskoviner Cycling Team
Thomas Moses 100% ME
Jonathan Mould 100% ME
Chris Nicholson Lotto-Predictor-VC Ardennes
Richard Prince Planet X
Chris Pritchard Endura Racing
Courtney Rowe Cardiff JIF
Erick Rowsell 100% ME
Alistair Rutherford Science In Sport.com
James Rutherford scienceinsport.com
Martin Smith Chesterfield Coureurs
Jason Streather VC St Raphael
Andrew Stuart VC St Raphael
Callum Watson City of Edinburgh RC
Alex Wise Agiskoviner Cycling Team
Adam Yates SiS.com
Simon Yates 100% ME

Open Team Sprint(Team Manager Entry)
Christina Kelkel Para-T Paracycling Team
Robert Mortlock Blazing Saddles Cycles
Ieuan Williams CC Cardiff
Brian Annable City of Edinburgh RC
Iain Dyer North West Region A
Iain Dyer North West Region B
Iain Dyer North West Region C
Alistair Rutherford scienceinsport.com
Lee Povey Team Terminator A
Lee Povey Team Terminator B
Rusine Heald VC St Raphael

Women's Keirin
Jessica Anderson Maxgear RT
Emma Baird City of Edinburgh RC
Jessica Crampton Sport City Velo
Cassie Gledhill XRT - Elmy Cycles
Rebecca James Abergavenny Road Club
Charline Joiner City of Edinburgh RC
Victoria Pendleton MBE Sky Track Cycling
Lauren Quenby Newcastle Racing Club 2001/Modern Glass.com
Helen Scott Para-T Paracycling Team
Jessica Varnish Halesowen A & CC
Victoria Williamson Welwyn Whls CC

Women's Madison
Kayleigh Brogan City of Edinburgh RC
Charline Joiner City of Edinburgh RC
Hannah Manley For Viored Brookvex
Amy Roberts For Viored Brookvex
Dani King Horizon Fitness - Prendas Ciclismo
Jessica Anderson Maxgear RT
Melissa Bury Maxgear RT
Eve Dixon Maxgear RT
Hannah Barnes Motorpoint Cycling
Lucy Garner Motorpoint Cycling
Harriet Owen Motorpoint Cycling
Hannah Walker Motorpoint Cycling
Laura Trott Moving Ladies Groenewoud Team R & TC
Lisa Daly Sport City Velo
Ella Hopkins VC St Raphael
Kate evans Wolverhampton Whls
Jessica Potts Wolverhampton Whls

Women's Team Pursuit (Team Manager Entry)
Simon Barnes Motorpoint Cycling
Cheryl Owens AW Cycles
Hannah Manley For Viored Brookvex
Alison Holmes Lichfield CC
Stefan Wyman Horizon Fitness - Prendas Ciclismo
Rusine Heald VC St Raphael