By Pete Maxwell | 27 July 2011

Wendy Houvenaghel, Laura Trott and Dani King enjoy that winning feeling
Today marks the day when the clock turns over on a year to go till the start of the Olympic Games in London and the anticipation is building. Certainly amongst a group of women who for the next 365 days will be doing everything they can to be selected in a team pursuit line up to take their place on the start line at a packed out London Velodrome on 4 August 2012.
"It's hard to put into words what it will be like. Like nothing I've ever experienced before - it will just be amazing. I can't wait." That's how Dani King described her emotions when asked about London.
For Dani and Laura Trott it's something that not long ago seemed just a distant dream. That changed for the first time after a stunning performance at the Track World Cup in Manchester which proved the catalyst for selection at the World Championships in Apeldoorn where, along with Wendy Houvenaghel, they blew away their American opponents by nearly two seconds to become World Champions. Last night (26 July) they also joined Katie Colclough in becoming U23 European Team Pursuit Champions. At just 18 years-old, Laura Trott isn't satisfied with that, she's already looking forward to what needs to be done for the team to improve between now and London.
"Well knocking seconds off our time is the main aim between now and then. Our Worlds time didn't reflect the sort of time we can do, which in a way is an advantage because they (the opposition) don't know how fast we can go. The only way we will win is if we get faster and work as a team."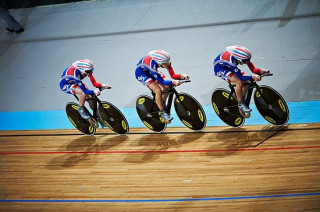 That team of course is far from being decided. The likes of Lizzie Armitstead, Katie Colclough, Hannah Mayho and Paralympian Sarah Storey all still harbour ambitions of squeezing into the final three - and that's before you add former World Champion Joanna Rowsell - and Olympic Champion, Rebecca Romero into the mix. No one's place is guaranteed.
For Romero, already a double Olympic champion in two sports - Rowing and Cycling - the chance to compete at London is something she's going to fight for. She knows however it's not going to be easy but is spurred on by the competition in the GB team. "I think it brings the best out of people if you've got a big group of riders all with great strengths, meaning any number of us could make a winning team. So as well as always having your eye on the ball with your competitors, having such competition actually means that you have to squeeze that extra one or two percent out of yourself."
It's a sentiment echoed by Rowsell: "It's important not to get too carried away by the bigger picture because then it can become quite daunting but I'll make sure that I'm eating the right things, getting rest where I can and keep training and hitting those weekly targets you get set by the coach - that's all I'll be focused on."
British Cycling's work to ensure the riders have everything they need to fully focus on competing is not taken for granted. King is full of praise for the work done behind the scenes. "British Cycling have the best coaches, physiologists, psychologists, doctors, everything really. It's great to know that when you're preparing for major competitions you have the best team behind you trying to help make you the best bike rider you can be."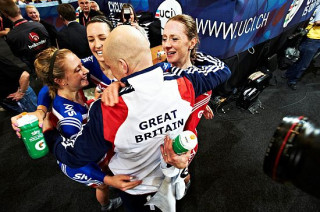 Laura Trott, Wendy Houvenaghel and Dani King celebrate winning their World title with Dave Brailsford in Apeldoorn
Having an Olympic Champion, Paul Manning, as a Coach is something Rowsell thinks will pay huge dividends over the next year. "He's got all the experience in the world so we couldn't ask for anything else. Whenever we're doing pursuiting and he says something you can't ever say 'No, you're wrong' because he knows exactly what he's talking about, and for us it's a relatively new event so we're all still learning about it. To have that level of experience behind us is invaluable."
The sport of cycling has enjoyed a huge rise in popularity since the Track Cycling Team blew the rest of the world away three years ago in Beijing - but the talent British Cycling continues to produce with riders like Laura, Dani, and Katie Colclough it is hoped there could be much more success to come in future years. Wendy Houvenaghel thinks a home Games in London and intense media attention can be the vehicle to continue to inspire people to get on two wheels for many years to come:
"It reinforces the great facilities we have here but also just what people can get from taking up the sport - there are a lot of health benefits and people are recognising how enjoyable it is. The fact that it's not just track cycling but so many disciplines that people can have a go at as well with BMX, Road and Mountain Biking is fantastic."
For these women though the focus is very much on being selected to try and win a gold medal race. The next 365 days is all about preparation.