| | | | | | | | |
| --- | --- | --- | --- | --- | --- | --- | --- |
| | Follow britishcycling.org.uk on | | | | | | |


Report: Reading Track League
Event: 16th May 2011
Promoted by: Reading Track Cycling League
Venue: Palmer Park Sports Centre, Reading
Report and images: courtesy of Guy Swarbrick
Event Details
The evenings are getting longer but the weather's still pretty marginal and it was another cloudy, windy, chill night at Palmer Park. The rain held off again, though, and the racing was fast and furious all evening.
Above: AW Cycles' Stephen Bradbury nips inside team mate Cam Swarbrick at the bell in the Devil.
With slightly lower numbers compared to the previous few weeks, the opening VIA International Scratch races were run together and it was Nick Abraham - making his first appearance as a 'guest' this season - that led a break of eight riders round for the first time. The break didn't last long, but as it came back together, Stephen Bradbury of AW Cycles shot off the front... and stayed there.
Abraham tried to chase him down, in company with Bradbury's team mate Matt Gittings, but they were soon back in the back and it was Ian Greenstreet of Newbury RC and yet another AW Cycles ride - Will Macke - who led out the sprint for second, using his experience to hold off his Junior rival in the run in.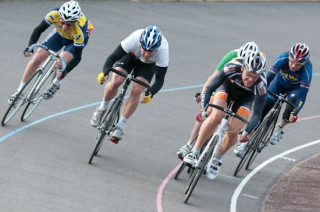 Above: James Pilgrim-Morris of GS Henley heads a tightly contested Senior B Keirin Final.
On Macke's wheel was Max Brown of Didcot Phoenix who continued his fine form from last week to take the Senior B win ahead of AW Cycles' Trevor Bradbury and Jason Pitt of Palmer Park Velo.
Last week saw the Senior Men's Individual Pursuit and this week it was the turn of the Ladies. Despite there being just a single heat, there were two battles on the track with just over two seconds between 3rd and 4th places and less than three between 1st and 2nd. Young Abbie Dentus of Palmer Park Velo - still an Under 14 - rode a superb ride to clock 4:24.87 - just behind Sarra Boyd of Clee Cycles KCNC - who, like her young opponent, was riding drop handlebars and a road helmet - at 4:22.11.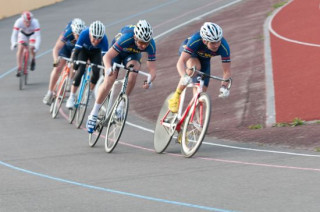 Above: Matt Gittings of AW Cycles takes the Senior A Keirin.
The tri-bars-and-aero-helmets race saw Rohan Battison of For Viored Bookvex storm round some 21 seconds quicker than Boyd - stopping the clock at 4:01.29. It was a great time, but it wasn't quite good enough with Jayne Paine of Willeseden CC the only rider to break the four minute barrier - taking the win with a 3:58.64.
The first of the Senior A Keirin heats was fairly straightforward with Gittings comfortably taking the first Finals berth ahead of Martyn Harris of Banjo Cycles and Bradbury Junior. The second could have been a judges' nightmare with almost nothing to separate Macke, Swarbrick and Abrahams on the line. Fortunately, with three going through it didn't much matter. The B heats saw Dave Dentus of Team Quest coming past Brown of turn four to take an comfortable win from Paul Cooper of Reading CC and Tristan Natolie of Charloteville CC in the first heat, with James Pilgrim-Morris holding off Bradbury Senior and Stuart Stow of Hounslow & District Wheelers winning the scrap for the third Finals spot in the second heat.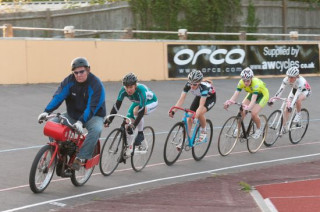 Above: Rohan Battison in second spot behind the Derny took the Ladies Keirin - passing Jayne Paine in the closing stages.
The Ladies Final saw Paine leading out of turn four with Battison on her shoulder and Dentus a little way back. A puncture on the home straight scuppered Paine's chances of taking the win - Battison powering ahead to take the three points - but she did hang on to second.
Bradbury's win in the opening race meant that - from no points two rounds ago - he had closed within three points of Swarbrick's point Series lead going in to the penultimate points scoring race of the evening - the Devil Take the Hindmost. When the bell went with six riders remaining, Bradbury spotted a gap down the inside of the bunch and launched himself forward. Swarbrick saw the move and got on his wheel but couldn't hold it, with Bradbury cruising to another comfortable win and another three points. But it was Swarbrick who crossed the line in 2nd - well ahead of Abraham and Macke - to pick up two points and hold on to the Series lead a little longer.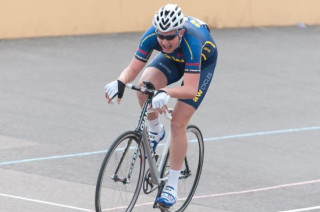 Above: Stephen Bradbury of AW Cycles cruises to victory in the VIA International 10 Lap Scratch.
The Senior A Keirin Final saw lots of jostling behind the Derny with Gittings and Bradbury settled in behind the bike but Swarbrick, behind Bradbury, had Abraham outside him and Harris making it three abreast with a lap to go. When the motor pulled off, the race strung out with Gittings leading on to the home straight with Bradbury, Abraham and Swarbrick in line astern. Despite Bradbury's attempts to come past Gittings and Swarbrick coming off Abraham's wheel and pulling alongside, they crossed the line in the same order they'd entered the home straight, with Gittings taking the win. Abraham's Guest status meant that Bradbury's meteoric rise to the top of the Series standings would need at least another week - with Swarbrick scoring the single point he needed to stay ahead.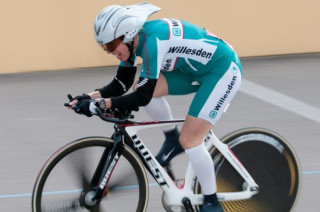 Above: Willesden CC's Jayne Paine takes the League Individual Pursuit.
Dentus didn't make the B Final, which was much more closely contested than the As with Pilgrim-Morris just ahead as they came in to the finishing straight. Cooper, Stow and Natolie were three abreast just behind him, with Bradbury eyeing up a gap inside Natolie. He made it through, but couldn't quite make it past. It was enough for third place, though, as Bradbury powered past Stow and Cooper in the run in. Pilgrim-Morris took the win with Natolie second.
The smaller field meant that there was nowhere to hide in the AW Cycles 20k Endurance race and, although the bunch stayed together for the first third of the race, riders were constantly being spat out of the back. Macke tried to get away at one point, pulling out a quarter of a lap. Team mate Harry Strudley tried to bridge the gap to give him some assistance, but couldn't make it and fell back to rapidly diminishing bunch.
Macke, despite his earlier efforts, had enough left to stay with the decisive move of the race - joining Bradbury Junior, Gittings and Greenstreet in a break that was never really threatened. Harris tried to make the junction, but couldn't get across and at the bell it was Gittings that pulled away to take an easy win from Bradbury and Greenstreet. Pitt - who was one of the last riders to be shed from the winning break - took the Senior B win with Stow out sprinting Pilgrim-Morris half a lap back. Boyd took the Ladies race from Battison.
Results
Senior A
Scratch
1 Stephen BRADBURY AW Cycles
2 Ian GREENSTREET Newbury RC
3 William MACKE AW Cycles
Devil
1 Stephen BRADBURY AW Cycles
2 Cam SWARBRICK AW Cycles
3 Nick ABRAHAM BC Private Member
4 William MACKE AW Cycles
Keirin
1 Matt GITTINGS AW Cycles
2 Stephen BRADBURY AW Cycles
3 Nick ABRAHAM BC Private Member
4 Cam SWARBRICK AW Cycles
AW Cycles 20K Endurance
1 Matt GITTINGS AW Cycles
2 Stephen BRADBURY AW Cycles
3 Ian GREENSTREET Newbury RC
Senior B
Scratch
1 Max BROWN Didcot Phoenix
2 Trevor BRADBURY AW Cycles
3 Jason PITT Palmer Park Velo
Devil
1 Tristan NATOLIE Charlotteville CC
2 Jason PITT Palmer Park Velo
3 Trevor BRADBURY AW Cycles
Keirin
1 James PILGRIM-MORRIS GS Henley
2 Tristan NATOLIE Charlotteville CC
3 Trevor BRADBURY AW Cycles
AW Cycles 20K Endurance
1 Jason PITT Palmer Park Velo
2 Stuart STOW Hounslow & District Wheelers
3 James PILGRIM-MORRIS GS Henley
Ladies
Scratch
1 Sarra BOYD Clee Cycles KCNC
2 Rohan BATTISON For Viored Bookvex
Individual Pursuit
1 Jayne PAINE Willesden CC 3:58.64
2 Rohan BATTISON For Viored Bookvex 4:01.29
3 Sarra BOYD Clee Cycles KCNC 4:22.11
4 Abbie DENTUS Palmer Park Velo 4:24.87
Keirin
1 Rohan BATTISON For Viored Bookvex
2 Jayne PAINE Willesden CC
3 Abbie DENTUS Palmer Park Velo
4 Sarra BOYD Clee Cycles KCNC
AW Cycles 20K Endurance
1 Sarra BOYD Clee Cycles KCNC
2 Rohan BATTISON For Viored Bookvex
---
British Cycling would like to thank the organising team, officials and everyone else who helped promote this event. Our sport could not exist without the hundreds of people, many of them unpaid volunteers, who put in many hours of hard work running events, activities and clubs.