2010 National Track Championships - Day 4

24th September 2010 - Manchester Velodrome | Reports Homepage

Men's Individual Pursuit & Sprint, Women's Scratch Race, Paracycling Pursuit
Video: Match B of the Sprint final between Jason Kenny and Matthew Crampton
Video: Womens Scratch Race National Track Championships 2010
Video: Men's Sprint Semi-Final Match A: Kenny versus Hoy
Video: Open Sprint Minor Final National Track Champs 2010
Video: Sprint Semi-Final Hoy Versus Kenny Match B
Video: Sprint B Final Stewart versus Croall

Open Sprint -- Jason Kenny is the New Champion
Above: Matt Crampton, Jason Kenny and Chris Hoy.
Jason Kenny is the new British Sprint champion after defeating Matthew Crampton in two close rides in the final. To win the title, Kenny had to first overcome the fastest qualifier, Olympic champion Chris Hoy in the semi finals and the Olympic Silver medallist did just that, defeating Sir Chris in two straight rides.

Crampton meanwhile, had made his way to the final by defeating David Daniell in their semi final to set up his chance at riding for a gold medal. It wasn't to be for Crampton however as Kenny just seemed to get better and better as the competition progressed through out the day.

The Bronze medal was won by Sir Chris Hoy who beat David Daniell in two straight rides.
Chris Hoy: "I'm not overly disappointed but I am not the type of person who enjoys being beaten. It's just a bad day at the office really. I would be concerned if the data, the times and the power that we have got in the previous months training had shown that this was going to be an under par performance. But that isn't the case. Training has gone really well".

For these events, you don't taper, don't back off and its like a normal training week where I'll have three or four good days and one or two bad days. I never want to lose, I don't enjoy getting beaten but it is still important to turn up here and to go through the process because I haven't raced for six months and it's good to get the racing speeds going again and I'll also sharpen up at Revolution for the Europeans".

"This isn't really an indication of what my form is right now. I knew this morning I didn't feel right and as the day has gone on, it has got steadily worse and worse. To beat David, I had to wring out every last drop of what I had. If this had been a training day, you'd pack up and go home because there is nothing in the tank and you're running on empty. But you can't do that in the competition."

"On the day, I was beaten by the better man and almost beaten by Dave and I take my hat off to the boys, they rode really well."

Jason Kenny: "It was amazing out there tonight. I pretty much qualified with what I expected time wise and I was pretty impressed with Pete (Mitchell) who put in a good time. In the racing tonight, everything just started clicking and getting better and better. I'm over the moon with how it is has gone."

"It isn't just about beating Chris but winning the whole thing. The semi against Chris was just like a final and then racing Matt in the final, he'd done a really go qualifier and was looking really strong. I was still expecting the worse and I knew I had a mountain to climb."

"It was very strange and great to win. It feels like it has ended a bit of a drought really. It dawned on me after the semi that I might actually win and I was thinking about the last time I had actually won anything and it seems such a long time ago so it's really nice."
Final for Gold/Silver
Jason Kenny beat Mat Crampton; 10.635 10.441 (2:0)

Final for Bronze Medal
Chris Hoy beat David Daniell 10.715 10.655 (2:0)

Semi Finals
Heat 1: Jason Kenny beat Chris Hoy (2:0)
Heat 2: Matt Crampton beat David Daniell (2:0)

Minor Final
Prior to the finals for the medals, the riders knocked out of the medal race in the quarter finals, lined up on the start line for the Minor final to race for positions 5th to 8th. There was to be no track stands or messing about riding slowly in this four up race and as soon as the riders been given the whistle to start, they all got up to speed quite quickly.

Closely matched, there was little between them as they got the bell and in the dash to the line, Academy rider Peter Mitchell saw off the challenge of Olympic Silver medallist (Keirin) Ross Edgar to finish the championship in fifth place.
5. Peter Mitchell
6. Ross Edgar
7. Callum Skinner
8. Lewis Oliva
Open B Finals 1st and 2nd
City of Edinburgh rider Kevin Stewart beat his club teammate Bruce Croall in two straight rides (11.626 11.696) to win the B final. Adam Welch was third.
1. Kevin Stewart
2. Bruce Croall
3. Adam Welch

Semi Finals B
Heat 1 Kevin Stewart beat Adam Welch 12.312 11.341
Heat 2 Bruce Crouall wins on ride over (Dave Readle)

Minor Final
Tom Baker beat Miles Annon and Tom Powell 11.872
Open Pursuit Championship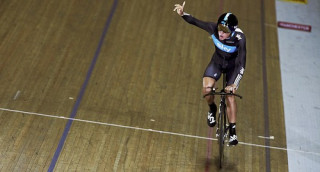 Team Sky's Peter Kennaugh has won the 2010 National Pursuit title after beating Points race champion George Atkins in the final on Friday evening. With almost five seconds between them after qualifying, Kennaugh went into the race as favourite but Atkins wasn't giving up without a fight.

The Points race champion, riding for 100% ME, went out very quick indeed, covering the first kilometre in 1.09 but Kennaugh was cruising and he soon turned the deficit around he had in the first half to lead Atkins for the second half of the 4,000 metres and win the race comfortably by four seconds.

The ride off for the bronze medal was a much closer affair with little separating them until the final laps when Harrison drew clear to take the bronze medal ahead of Isle of Man rider, Mark Christian.
Peter Kennaugh: "That was pretty hard and I'm surprised I went slower as it felt like I was going quicker but obviously I wasn't and I just had sore legs. George put me under a lot of pressure in the final straight away and I wasn't really aware of where he was at but I knew he was up on me. I also knew though that I had to hold my pace and I'd be fine."

On winning his second national championship within the week, he replied "Yeah, it's good. The two races I have done, I've won and I'm happy with that. I opted out of the Points race yesterday because I thought I'd rather win this than get second in the Points and then third in this and it's worked out for me."
Gold Silver Medal Ride-off
1. Peter Kennaugh 4.27.112
2. George Atkins 4.31.956.

Bronze Medal Ride-off
Sam Harrison 4.38.387
Mark Christian 4.39.011

5th-8th
Jon Mould 4.39.330
Adam Duggleby 4.39.918 faster than q
Mark Holton 4.41.196 slower than q
Owen Doull 4.42.343
Women's Scratch Race (60 laps)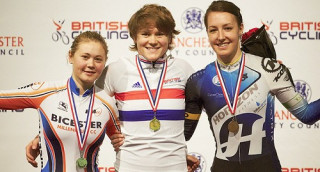 Anna Blyth of 100% ME won the Women's Scratch race title in a bunch kick with Harriett Owen in second and Dani King in third place. After a steady start to the race, the first rider to get itchy legs was Laura Trott who attacked with 49 laps to go. For five laps, the World Junior Champion Trott tried to take a lap but the bunch continued to chase her down. Eventually, the Welwyn rider had to give best and sit up as the move just wasn't sticking and she melted back into the fast moving bunch.

Hannah Rich then attacked a few laps later but that too was short lived and then Marianne Brittian grew impatient and had a go but the bunch was in no mood for a break to go away and the last 10 laps of the race saw the riders positioning themselves ready for the sprint. This played right into the hands of former Sprint squad rider, Anna Blyth who added the British Scratch title to her European one.
Anna Blyth: "The race was really good for me tonight. It came down to a big sprint finish which was what I wanted. Can't complain! I knew if I could get myself to the front with a couple of laps to go, then I would have a good chance of bringing it home. I'm really happy to as it seems like ages since I last won a race!"

Harriett Owen: "It was a good race because I'd put on a bigger gear to be ready for the sprint finish because I knew it would come down to one and I held tight and waited for the finish. I'm very pleased with the result tonight. I came here for experience so to get on the podium".
1. Anna Blyth
2. Harriett Owen
3. Dani King
4. Ruby Miller
5. Helen Scott
6. Laura Trott
ParaCycling Pursuit Final
In a championship using a factoring system, many of Britain's world class riders including Darren Kenny and Jody Cundy competed in the Paracycling pursuit event over distances up to 4,000 metres with the distance depending on a riders category.
Being a pursuit, it was fitting, even with a factoring system, that a World Record holder in Darren Kenny came out of the competition with the national title after scoring 95 points, just over a point ahead of fellow GB teammate Rik Waddon with Jody Cundy in third.
Results (points/time) (provisional)
Darren Kenny 95.896 (3.46.156)
Rik Waddon 94.623 (3.49.196)
Jody Cundy 92.451 new national record 5.03.826

Russell White 90.0 (5.05.762)
Barney Storey/Neil Fachie 90.008 (4.46.827)
JA Butterworth 90.621 (5.06.447)
Terry Byrne 89.329 5.14.443
Crystal Lane 82.754 (4.18.920)
Tom Staniford 82.282 points (5. 29.366)
Martin Christmas 80.353pts (4.29.403)
Craig McLean/Anthony Kappes (4.33.832) non-championship