2010 National Track Championships - Day 3 (Morning)

23rd September 2010 - Manchester Velodrome | Reports Homepage

WOMEN'S SPRINT
Victoria Pendleton.

The blue ribbon event for the Women sprinters, the Match Sprint, kicked off with the flying 200 metres with Olympic and current World champion, Victoria Pendleton, blitzing her rivals with a time of 11.067 to easily qualify fastest ahead of Becky James (11.408) and Jessica Varnish (11.600). This set the scene for the 1st round where the fastest riders went up against the slowest qualifiers.

Pendleton was, of course, untroubled in her ride against Louise Satherley whilst the other favourites Becky James and Jess Varnish also cruised through there qualifying rounds. Key moment during the first round though was how well Satherley took the race to the multi world champion Pendleton but the champion, proudly wearing the rainbow stripes, had the speed and power to choose her moment to over power the Team Terminator rider.

There was also a fall in the third heat when Jenny Davis came to grief as the riders set off on their first lap but she was soon on her feet and lining up in the rerun which was won by Varnish. The final heat was the closest yet with Charlene Joiner and Vicky Williamson going head to head with Williamson (still a junior), a former runner, getting the verdict by a wheel in the sprint to the line.

Joiner though did come back through the repechages when, in the first heat she beat off the challenge of her club mates to win through to the quarters finals. In the second heat of the repechages, Jenny Davis won the four up race ahead of Cassie Glendhill, Kayleigh Brogan and Louise Satherley.

The ride offs in the quarter finals went to plan for the favourites with Victoria Pendleton having no problem against Cassie Glendhill whilst Becky James also made light work of beating Emma Baird. In heat 3, match A, Jess Varnish had to fight to beat off a determined challenge from Jenny Davis but after some initial skirmishes, Varnish gave it full gas to distance her rival in the home straight.

The final heat in the quarters, Charlene Joiner versus Vicky Williamson, was a repeat of the first round and the end result saw the quarter final being decided in three rides. Joiner won the first but Williamson hit back in the second and the semi final ride was to be decided in a third ride. With the riders being so close, there was no room for error and one mistake by Joiner early in the deciding race, saw Williamson take full advantage. Taking the lead with one and a half laps to race, Williamson hit out and gaped Joiner only to see the Scottish rider come back at her on the line but the Welwyn rider had done enough to win the match and go through to the semis.

Provisional Results
Qualifying
Victoria Pendleton 11.067
Rebecca James 11.408
Jess Varnish 11.600
Victoria Wilkinson 11.964
Charlene Joiner 12.108
Jenny Davis 12.148
Emma Baird 12.637
Cassie Gledhill 12.750
Louise Haston 12.910
Kayleigh Brogan 12.932
Louise Satherley 13.449
First Round
Heat 1: Victoria Pendleton beat Louise Satherly
Heat 2: Becky James beat Emma Baird and Cassie Gledhill
Heat 3: Jess Varnish beat Jenny Davis and Louise Haston
Heat 4: Victoria Williamson beat Charlene Joiner and Kayleigh Brogan
Repechages
Heat 1: Charlene Joiner beat Emma Baird and Louise Haston. 12.625
Heat 2: Jenny Davis beat Cassie Glendhill, Kayleigh Brogan and Louise Satherley. 12.940
Quarter Finals
Heat 1: Victoria Pendleton beat Cassie Gledhill 2:0
Heat 2: Becky James beat Emma Baird 2:0
Heat 3: Jess Varnish beat Jenny Davis 2:0
Heat 4: Victoria Williamson beat Charlene Joiner 2:1

WOMEN'S INDIVIDUAL PURSUIT (3000m)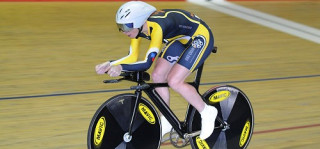 Wendy Houvenaghel on her way to the fastest time of qualifying.
This championship was headlined by Olympic Silver medallist Wendy Houvenaghel who as expected, qualified fastest for the Gold medal final in the evening with a super quick time of 3.31.555. The other favourites also came to the fore with Sarah Storey getting under the 40 second mark with a 3.39 whilst Junior Laura Trott did enough to make the Bronze medal ride off against Anna Blyth.

During the heats, the Olympic Silver medallist, Houvenaghel, caught National Points race Champion Corrine Hall before halfway, one of many heats where the catch was made. Sarah Storey caught her trade teammate Dani King just before the bell on her way to a good time while World Junior championship Silver medallist, Laura Trott, made light work of catching Sue Fenwick in her heat on her way to recording a time of 3.44.162 and Ella Hopkins (4.04.068) also caught Nicci Meadows (4.14.812) in her heat.

Qualifying
Wendy Houvenaghel 3.31. 555
Sarah Storey 3.39.200
Laura Trott 3.44.162
Anna Blyth 3.48.091
Dani King 3.49.251
Emma Grant 3.56.74
Corrine Hall 3.57.194
Mari Todd 3.58.309
Emile Fisher 4.01.671
Jayne Paine 4.02.159
Ella Hopkins 4.04.068
Crystal Lane 4.14.760
Nicci Meadows 4.14.812
Sue Fenwick 4.19.702
MEN'S OPEN POINTS RACE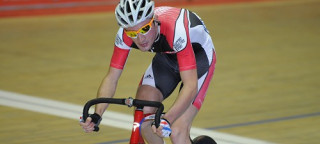 George Atkins during his taking of the lap in heat 1.

After last nights Open Men's Scratch race, where Team Sky all but dominated the race, the Poinst race saw only one Sky rider racing, Ian Stannard with Swift out through injury and Kennaugh and Thomas concentrating on the Pursuit. To qualify for the final, the first 12 riders in each of the two heats would go through and as expected, there were few surprises.
Heat 1
In the first heat, twenty riders took to the start to fight for the twelve places over 80 laps of the track and George Atkins made sure of his place in the final by taking a lap early on.

The rest of the race though saw the riders battling for points with Tim Kennaugh doing it the hard way by going it alone to get five valuable points in Sprint 7. The key moment in the race came after sprint 3 when Andrew Magnier kept the tempo going after winning the third sprint and soon the peloton split and a selection was made at the front of the race. One rider in that selection still unsure of place in the final was the Isle of Man's Tim Kennaugh who hit out early before sprint 7 and he managed to hold on and take the five points and his place in the final was assured.

After eight sprints, the final 12 for the final was sorted and they are: George Atkins, Ian Stannard, Sam Harrison, Andrew Magnier, Adam Duggleby, Graham Briggs, Owain Doull, Timmothy Kennaugh, Jack Kirk, Eric Rowsell, Richard Lambert and Simon Yates.
Sprint by Sprint
Sprint 1: Adam Duggleby from Sam Harrison, Jack Kirk and Jack Penrice
Sprint 2 Ian Stannard from Symon Lewis
Sprint 3: Andrew Magnier from Graham Briggs
Sprint 4: Yates from Stannard
Sprint 5: Sam Harrison from Ian Stannard
Sprint 6: Andrew Magnier from Owain Doull
Sprint 7: Tim Kennaugh from Graham Briggs who wins the bunch sprint for 2nd
Sprint 8: John McClelland from Simon Yates
Heat 2
Twenty more riders lined up for heat 2 and in this, the twelve riders for the final were resolved on the points for the midrace sprints. No laps were taken although Chris Sherrifs did try and get away early on but the bunch was giving nobody any gifts and quickly chased him down.

After the 80 laps ridden in 25 minutes and 18 seconds, the winner was Junior World Madison champion Dan McLay who scored 11 points with the other riders going through to the final including Mark Christian, Jon Mould, Nicholas English, Alistair Ruherford, Adam Yates, Chris Whorrall, Evan Oliphant, Richard Prince, James Lowsley Williams, Chris Sherriffs, and Lweis Balyckyi.
Sprint-by-Sprint
Sprint 1: Dan Mclay from Mark Christian
Sprint 2 Alistair Rutherford from Jon Mould
Sprint 3: Nicholas English wins after a long lone effort from Mark Christian
Sprint 4: Jon Mould wins this bunch kick Dan McLay
Sprint 5: Adam Yates wins with a lone effort from Evan Oliphant
Sprint 6: Nicholas English wins another from a very close sprint in the bunch win by Lowsley-Williams.
Sprint 7: Chris Whorral beats Dan McLay to the line for the penultimate sprint
Sprint 8: Richard Prince from Mark Christian