Report: Revolution 25
14th November 2009, Manchester Velodrome
Report: Eddie Allen | Images: Larry Hickmott | www.cyclingrevolution.com
Revolution 25 Photostream

The new 8 team championship, encompassing both the Future Stars and the main competition, added an exciting new dimension to the Revolution format for the first event of 2009, allowing spectators to pick their favourite team and follow their fortunes throughout the four Revolutions of the 2009/10 series. With top riders and Future Stars racing side by side it was a great opportunity for the youngsters to learn from the pros, as Jamie Staff explained:
"It's a fantastic opportunity for them, I mean, how many sports can you go into where you actually get to be on the same team as an elite rider in front of a capacity crowd? It's a very good learning opportunity for them and it's going to help them in the future when they do show up at World Cups for the team."
Here's how the action panned out, race by race.
Motor Paced Scratch Race
The elongated keirin that is the Motor Paced Scratch Race opened the action. Dean Downing monkeyed around getting a free ride from the Derny pilot before the action got serious and the win was taken by Vitesse's Ben Swift from Roller's Geriant Thomas. First blood for Vitesse. Geraint Thomas after the race: "To be honest, I really wasn't sure if I'd got it or not but I figured if I looked confident the judges might favour me a bit!"
1. Ben Swift VIT
2. Geraint Thomas ROL
3. Alex Dowsett PAC
4. Jon Mould TEM
DHL Future Stars Eliminator - Girls
The DHL Future Stars Eliminator was marred by a bad crash involving Dynamo's Beth Crumpton and a rider from Tempo who was stretchered off. After the restart is was Slick's Amy Roberts who triumphed.
1. Amy Roberts SLI
2. Lucy Garner PAC
3. Emily Kay DYN
4. Harriet Owen FOR
Revolution Sprint - 200m Qualification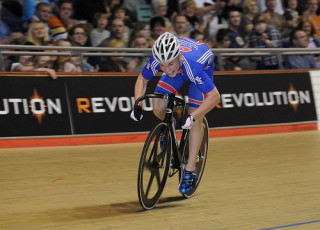 Under 16 sprint sensation John Paul (above) had the chance to wow the crowd setting a new national record for the flying 200m posting a stunning 11.3secs.
The proceedings moved on with more 200m action as the Revolution Sprint got underway. The mighty Craig Maclean from Slicks showed the early form posting the top time of 10.447.
1. Craig Maclean SLI 10.477
2. Chris Pritchard TEM 10.696
3. Roberto Chiappa VIT 10.729
4. Jeiger Bisschop FLY 11.078
5. Itmar Esteban ROL 11.091
6. Alfredo Moreno Cano DYN 11.160
7. Dave Readle PAC 11.186
8. Jody Cundy FOR 11.478
DHL Future Stars Points Race - Boys
The whippet-like speed of Slicks' Owain Doull helped him win the Boy's DHL Future Stars Points Race, scoring consistently throughout the four sprints and just pipping Rob Lampton, despite Rob winning two sprints outright.
1. Owain Doull SLI 11pts
2. Robert Lampton DYN 10pts
3. Jordan Hargreaves ROL 5pts
4. Alistair Slater 4pts
Revolution Sprint - Round 1
Heat One saw Jeiger Bisschop easily beat Dave Readle to progress to the next round, while in the next heat Craig Maclean was matched against Paralympic hero Jody Cundy, with Maclean going through. Heat Three saw Italian Roberto Chiappa pipped by Vitesse's Moreno Cano from Dynamo whilst in the final heat, Tempo's Chris Pritchard was matched against Rollers' Itmar Esteban, with the Spaniard outwitting Pritchard and winning by a country mile.
Progressing to next round
Jeiger Bisschop
Craig Maclean
Alfredo Moreno Cano
Itmar Esteban
DHL Future Stars 6 Lap Dash - Girls
Forza had the DHL Future Stars 6 Lap Dash - Girls race all boxed off with the ladies in red Hannah Barnes and Harriot Owen going clear of the field on the bell to take much needed team points.

1. Hannah Barnes FOR
2. Harriot Owen FOR
3. Amy Roberts SLI
4. Emily Kay DYN
1km Madison Time Trial
Always a Revolution favourite, the next event up was the 1km Madison Time Trial. With bonus team points available for any time under 58 secs, all the teams were wringing themselves out to get a good time. In the end it was the experienced FORZA pairing of Leon Van Bon and Rob Hayles who took victory and were the only pairing to dip below the magic 58 second mark. After the race Rob Hayles said: "I didn't expect to win a race tonight, I'm well happy to get that time trial with Leon there, it was a good partnership that one".
1. FORZA (Van Bon/Hayles) 57.959
2. PACERS (P Kennaugh/Dowsett) 59.239
3. SLICKS (Harrison/Rowe) 59.390
4. ROLLERS (Keisse/Thomas) 59.562
5. TEMPO (Goss/Blythe) 1.00.016
6. VITESSE (East/Swift) 1.01.181
7. DYNAMO (Roberts/Cummings) 1.01.969
8. FLYERS (Downing/Stannard) 1.02.596
Revolution Sprint - Semi Finals
In Semi Final 1 Moreno from Dynamo beat Bisschop from Flyers in a photo finish to progress to the final while in Semi Final 2, it was a clash of the heavyweights with Craig Maclean taking on and beating Itmar Esteban to join Moreno in the final.
Progressing to Final
Alfredo Moreno Capo DYN
Craig Maclean SLI
DHL Future Stars Elimination - Boys
Owain Doull followed up on his win in the Points race with another win in the DHL Future Stars Elimination race beating Jordan Hargreaves and Alistair Slater after the devil had done his work. Will Doull be a name to watch from the Future Stars, just like Steven Burke and Sam Harrison before him?
1. Owain Doull
2. Jordan Hargreaves
3. Alistair Slater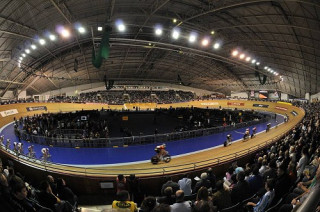 Full house to watch the non-stop action
DHL Future Stars Points Race - Girls
Hannah Barnes, like Doull in the Boys Future Stars, was head and shoulders above the other contenders, taking the win for Forza and backing up her earlier win in the 6 lap dash.
1. Hannah Barnes 12 pts
2. Harriot Owen 11 pts
3. Emily Kay 9 pts
4. Amy Roberts 4 pts
5. Melissa Bury 3 pts
6. Bethany Crumpton 2 pts
Revolution Sprint - Losers 6 Lap Dash
Roberto Chiappa took the consolation prize of winning the six lap dash, the veteran rider taking the win in some style after Chris Pritchard's early dig for home faded.
1. Roberto Chiappa
2. Itmar Esteban
3. Chris Pritchard
4. Jelger Bisschop
5. Dave Readle
6. Jody Cundy
Revolution Sprint - Final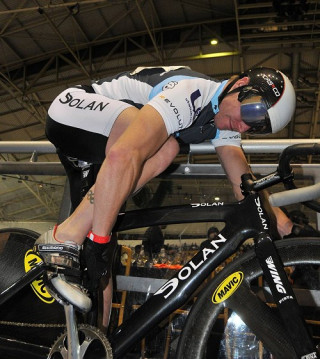 Former World Champion and Olympic medallist Craig McLean makes sure the straps are tight before showing the rest of the sprinters who's boss and none were happier than his little daughter as she smiled brightly as he did his lap of honour.

Craig McLean took victory in the Revolution Sprint final, giving Moreno plenty of slack before unloading his incredible power and going past the Spaniard like he was standing still on the back straight, Moreno eventually sitting up with a quarter of a lap to go.
1. Craig Maclean SLI
2. Alfredo Moreno Cano DYN
DHL Future Stars 6 Lap Dash - Boys
The 6 lap dash descended into farce and drama after problems with the lap counter caused confusion amongst the riders and the crowd. A crash on the final lap further drew attention away from the result, which saw Minting claim victory from sprint star John Paul. All three crash victims were OK and after some quick track repairs, racing resumed.
1. Alex Minting
2. John Paul
3. Rob Lampton
4. Jordan Hargreaves
5. Jack Penrice
15km Points Race
Steve Cummings of the Dynamo team took victory in the 15km Points, shaking up the action by going away at 30 laps to go, taking the sprint and going on to take a lap. Alex Dowsett scored consistently throughout taking second place with Geraint Thomas taking third, helped greatly by a surging final sprint victory, overtaking Leon Van Bon, part of an earlier three man breakaway.
1. Steve Cummings 15 pts
2. Alex Dowsett 11 pts
3. Geraint Thomas 9 pts
4. Iljo Keisse 8 pts
5. Luke Rowe 6 pts
Revolution Keirin
Craig Maclean once again showed that he still has awesome form by taking the win in the Keirin, first overhauling Roberto Chiappa who took in on from the front at the bell and holding off a late challenge from Chris Pritchard.
1. Craig Maclean
2. Chris Pritchard
3. Roberto Chiappa
10km Scratch Race
Iljo Keisse, Erik Rowsell and Peter Kennaugh gained a lap early on making it effectively a three horse race unless other riders could follow suit. Peter Kennaugh then went away again with Kyle East, trying to cement victory. However with 9 laps to go the field reeled them in. Hayles hit the front and tore the legs off the field for 5 laps before being overhauled by the bunch, with Keisse at the head of it, taking the win with fellow lap gainer Rowsell placing higher than Kennaugh, with youngster Sam Harrison the best of the rest.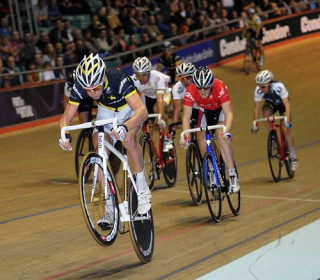 1. Iljo Keisse
2. Erik Rowsell
3. Peter Kennaugh
4. Sam Harrison
Team Italian Pursuit
The final event of the night was the Italian Pursuit, and amalgam of team pursuit and team sprint, and a competition which will run for all four 2009/10 Revolution meetings, with two teams racing in each meeting. Revolution 25 saw Dynamo post the time to beat in a thrilling finale to a great night's action.
1. DYNAMO 1.39.945
2. FLYERS 1.42.810
Revolution Championship Standings
As the racing came to an end the commissaires totted up the points and it emerged that Forza were the clear leaders, beating Slicks by 18 points. We caught up with a delighted Rob Hayles, Forza's team captain:
"Fantastic, really pleased, I certainly didn't expect to win an event myself, that was fantastic and the girls, what can you say? They took a bit of our glory away! We've just won one then they get up and do it again, I should tell them off for that! This new format is great, we all just take the mick out of each other, it's all about enjoying it, you've got to enjoy it because at the end of the day it's a hobby and if you don't enjoy your hobby what are you doing it for?"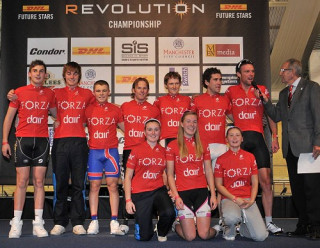 Team: Forza
Future Stars Boys - Owain Doull
Future Stars Girls - Hannah Barnes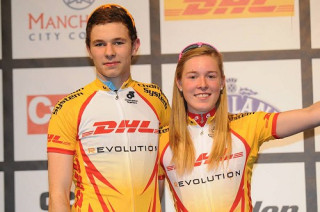 Future Stars leaders -- Owain Doull and Hannah Barnes
---
Related:
More Top Names for Revolution Track Night
Teams Taking Shape for Revolution Championship