Follow britishcycling.org.uk on
GB Announces Squad For UCI Track Cycling World Championships

Story posted March 12, 2010;
Manchester 2009: The Great Britiain Cycling team are top nation at the Manchester World Track Cup.
British Cycling has announced the team of 19 riders who will represent GB at the forthcoming UCI Track Cycling World Championships, taking place on 24 - 28 March 2010 in Copenhagen.

Sir Chris Hoy is back in action and will be looking to regain his World Champion titles having been forced to withdraw from last year's competition due to injury. Current Olympic and World Champion Victoria Pendleton is out to retain her title in the Sprint, whilst the trio of Lizzie Armitstead, Wendy Houvenaghel and Joanna Rowsell will be aiming to defend their World Champion title in the Women's Team Pursuit, having already broken the World Record earlier this season.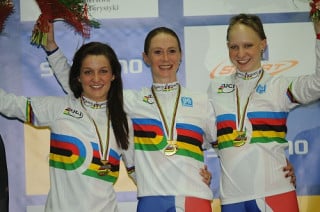 Winners in Poland in 2009, Lizzie Armistead, Wendy Houvenaghel and Joanna Rowsell (Women's Team Pursuit)
Jason Queally makes a remarkable return having retired in 2008. Jason won Gold in the Kilo at the Sydney Olympics in 2000 and is credited with kicking off the British Cycling 'Gold rush' that has since followed. Jason is now targeting the endurance discipline of the Team Pursuit and has his sights set on London 2012.

Speaking of his decision to make a comeback, Jason said: "At 40, I was never going to get an opportunity like this again. Even if I don't make it to London, I know I have had the opportunity to go for it. If I'm successful, fantastic, if not, I have given it my best shot."

Shane Sutton, Performance Manager for the GB Cycling Team, said: "The Worlds in Copenhagen will be about assessing where we are, right here, right now. We know what is going to be needed at the London Olympics so we need to go to the Worlds and assess where we are and how far we have got to go. I've noticed a high morale across the team and there is a bit of buzz around these Worlds as the days to 2012 are counting down."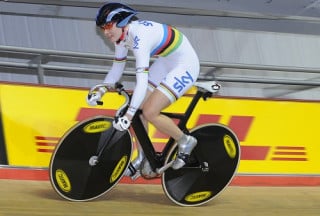 Victoria Pendleton wearing the rainbow stripes she won in Poland in 2009 for the Women's Sprint.
GB SQUAD FOR UCI TRACK WORLD CHAMPIONSHIPS – COPENHAGEN

Men's Sprint
Matt Crampton
Dave Daniell
Ross Edgar
Chris Hoy
Jason Kenny

Men's Endurance
Steven Burke
Ed Clancy
Chris Newton
Jason Queally
Ben Swift
Andy Tennant

Women's Sprint
Rebecca James
Victoria Pendleton
Jess Varnish

Women's Endurance
Lizzie Armitstead
Anna Blyth
Katie Colclough
Wendy Houvenaghel
Joanna Rowsell

Footnote: 2009 Track Cycling World Championships
The championships in Poland last year were memorable in that Great Britain did not dominate them the way they did the 2008 Worlds and the 2008 Olympics. Other countries stepped up to the mark and challenged Great Britain for the glory of top nation. Whilst GB did not win the number of titles they have in the past, it was still a successful Championships with Victoria Pendleton, Lizzie Armitstead and Wendy Houvenaghel leading the way with multi-medal winning performances.

To recap, in 2009 GB won the following medals:
Women
Women's Sprint: Victoria Pendleton (Gold)
Women's Team Pursuit: Houvenaghel, Armitstead, Rowsell (Gold)
Women's Scratch Race: Lizzie Armitstead (Silver)
Women's Team Sprint: Reade/Pendleton (Silver)
Women's Individual Pursuit: Wendy Houvenaghel (Silver)
Women's 500m TT: Victoria Pendleton (Bronze)
Women's Points Race: Lizzie Armistead (Bronze)

Men
Men's Team Sprint: Crampton, Staff and Kenny (Silver)
Men's Points Race: Chris Newton (Bronze)
RELATED LINKS
Manchester Revolution Photos & Report

UCI Track Cycling World Cup - Manchester
2009 UCI Track Cycling World Championships
UCI Track Cycling World Cup Rd2
Two World Titles for Becky James