The phrase 'meteoric rise' could have been invented for Katie Archibald as her cycling career could come full circle when the UCI Track Cycling World Cup visits the HSBC UK National Cycling Centre from 10-12 November.
When the series last visited Manchester, in November 2013, Archibald wasn't part of the Great Britain Cycling Team. She hopes to return as Katie Archibald MBE, with an Olympic gold medal, two world titles and eight European crowns to her name.
The return of the event to Manchester provides an opportunity for Archibald to reflect on her breakthrough in 2013 and how far she has come in the intervening four years.
"My first Track World Cup did come in Manchester back in 2013. I was there as the only person riding for Scotland and I felt like a little bit of an intruder, but left with a bronze and a silver medal and was flabbergasted."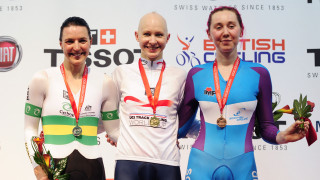 Archibald was selected by the Great Britain Cycling Team in the months following that success winning her first world title in the team pursuit in Colombia in 2014. While Olympic gold in 2016 is unquestionably the highlight of her still young career, 2017 has been the most consistent year of her career.
She has won four national titles on the track in the individual pursuit, points race, scratch race, omnium as well as winning the HSBC UK | National Circuit Championships in Sheffield. She also finished third in the time-trial and second in the road at the HSBC UK | National Road Championships in the Isle of Man, but it was at the UCI Track Cycling World Championships in Hong Kong in April where she enjoyed the greatest success of her year.
With Laura Kenny, Olympic and world champion in the omnium unavailable for selection, Archibald was selected to step up and fill the void and she didn't disappoint, winning the first individual world title of her career, and is aware that wearing the rainbow stripes will mean she is the benchmark for the rest of the competition.
"Winning those rainbow bands is scary. By its nature, everyone is watching you and I suppose that's the idea, but it doesn't make it easier. You feel that pride when you look in the mirror, but that fear kicks in when you hit the boards, you want to be able to do it justice.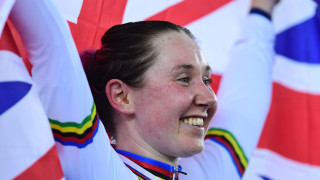 "It's not just a rainbow jersey, you're also wearing the Great Britain jersey – we're known for the depth that we have in our women's endurance team and the entire squad, and it proves you're deserving of wearing that.
"Even though I'm world champion, there is a lot of contention for that omnium sport so there is pressure in that."
Having won the Madison in dramatic fashion when the UCI Track Cycling World Cup visited Glasgow in November last year, Archibald is excited about the prospect of competing in front of a passionate home crowd once more.
"Glasgow is my home track but I've been based in Manchester for a while now and it has very much felt like a second home for me. It feels very special to be able to bring your friends and family down to watch what you do best.
"When it's a home track like this, you really own the competition, it adds a lot of pressure but there is also a massive privilege that comes with it."
On November 10-12, riders like Katie Archibald will compete at the HSBC UK National Cycling Centre in Manchester.
You can get your tickets at www.trackworldcup.co.uk/tickets