In February, the Great Britain Cycling Team's men's endurance academy riders relocated to a new European training base in Italy.
The squad, coached by Brian Stephens and Keith Lambert and mentored by David Millar, are based in Montichiari which offers excellent training conditions on the road and is in close proximity to the velodrome. It is also giving senior academy riders easier access to top class under-23 road races and a similar base will be opened in Europe for the women's endurance academy riders in the next year.
The academy riders opened the doors to their Italian home to give an insight to life on the continent and we spoke to team members Ollie Wood (OW) and Gabriel Cullaigh (GC), as well as their mentor David Millar (DM) and coach Brian Stephens (BS), to find out how the first year of the base is going.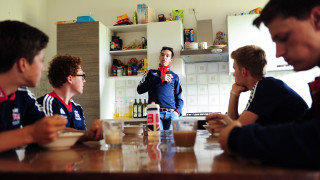 GC: He's good, Dave, and we're really close to him. We can ask him about anything so I ask him quite a lot of questions and he obviously has a lot of stories as well. He's not always in Italy but we've got his contact details so we can contact him whenever we want and pick his brain on stuff. We send debriefs of our races to him and he picks out bits where he can give advice on where we can do better next time and gives us positive feedback but also criticism as well. It really helps our learning.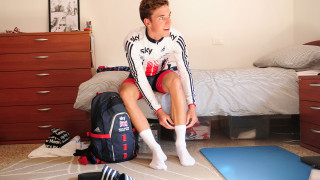 OW: When you look at when the academy first started and you look at the riders it produced, they're now winning everything, they're winning world championships and on the front of the Tour de France and it's hard to think we can ever be as good as that but we're certainly trying to be. And being out here is giving us a step in the right direction.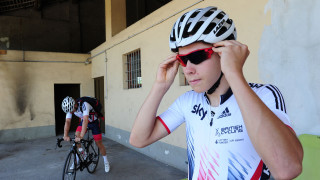 DM: It's been a breath of fresh air - I'm so used to working with professional bike racers and they can be a bit cynical so working with the young academy guys is lovely, it's so invigorating as they're all so fresh and excited. It's good that I can share my experiences with them, but it's a two-way street."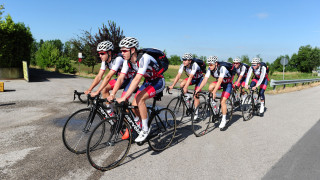 GC: At the start we were quite regimented, we'd be out at a set time and do a ride, anything from two to six hours but now we're in the season we relax a lot more and make sure we get our sleep. We head out late morning, do our ride then have a café stop on the way back and then just chill out when we get back, do some sunbathing and watch box sets. We've set up a time trial course about 15 minutes from here, it's a mile course and it's perfect.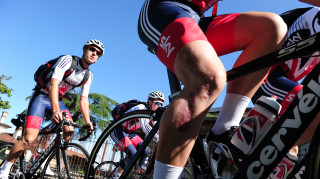 BS: Since we've made the move to Italy I've seen a real progression in the squad in terms of both attitude and performance. It was difficult for them at first, and the standard of racing out here is different to what they've been used to, but I'm pleased with the way they've knuckled down and accepted the challenge. The results will come, I'm confident of it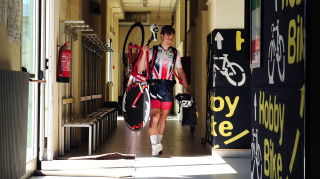 GC: I guess we're the next generation of riders now, the previous generation being Geraint Thomas, Mark Cavendish, Ben Swift and Peter Kennaugh, and five or six years down the line we want to be doing what they're doing.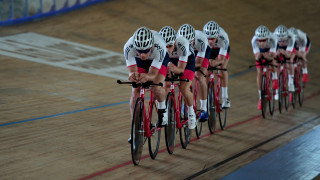 DM: Since February, they've learnt what's ahead of them, I think it's hitting home just how hard it is and how hard they're going to have to work and how this is just the beginning. I remember what it's like when you're a junior and you're the best in the UK but then you come abroad to race and you realise there's a lot of other guys like us. I think that's really healthy for them that they realise they're still at the bottom of the ladder. There's no reason why some of these guys can't make it to the top of the sport, but they're going to have to do a lot of work.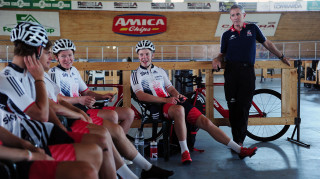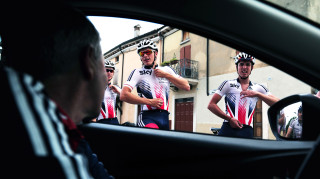 GC: It's been a steep learning curve for us, but I've enjoyed it. The first few races we did we probably got a bit carried away because you don't realise the strength and depth of the riders on the Italian teams. When you race in Britain or Belgium you might go really hard on a climb or through a cross wind section and you look back and there's maybe only twenty riders left but in Italian races when you go through a hard section there's probably still 50 or 60 riders there, so it really teaches you how to race properly and use your legs when it really matters. So when we come back to race next year we've learnt we've got to race smarter, you can't just rely on strength in your legs.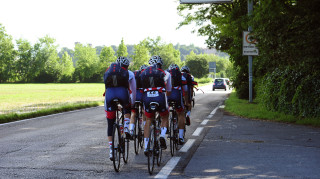 OW: Dave's been brilliant for us, he wants to teach us what no one taught him about being a professional bike rider and that gives us an advantage on other squads. It's a really positive thing, it's good to have him around.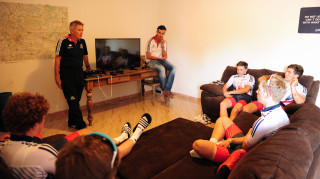 Applications for the Great Britain Cycling Team Academy are now open. For more details, click here.