Four-time Olympic champion Sir Bradley Wiggins says he is hopeful that the men's team pursuit can break the three minute and 50 seconds-barrier at the UCI Track Cycling World Championships in London.
The current world record of 3:51.659 is held by Great Britain, set at the 2012 Olympic Games.
But with records consistently falling over the years, Wiggins is confident that the right conditions in London could lead to another record.
"Sixteen years ago, when I first rode the team pursuit at the Olympics, we broke the world record in the qualification with a 4'04", now were looking at going 3'50" so the whole event has just evolved," Wiggins declared.
"I think if we are to break the record, it'll either happen in London or in Rio because there is no other real opportunity.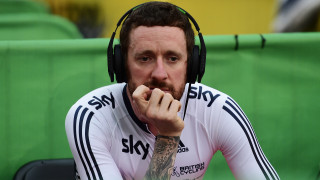 "I think the whole team is excited at the prospect of breaking the record, but it's all about the conditions. If the world championships were in Manchester, we could get the temperature up and go very close to breaking the record, but you can't compare different arenas.
"I was at the velodrome in 2012 when the lads broke the team pursuit record and that was incredible, if it's anything like that it'll be a great atmosphere."
As well as riding the pursuit with a combination of Steven Burke, Ed Clancy, Jon Dibben, Owain Doull, Chris Latham and Andy Tennant, Wiggins will also be riding the Madison with Mark Cavendish.
Wiggins is now 35 and riding as fast as ever, even if it requires more effort. Despite his acknowledgment that riding is getting tougher, it's the opposing riders that truly make him feel old.
"It's got harder as I've aged, especially training, but it's quite different. Eight years ago, approaching Beijing, we were going half a second slower per lap than we are now, so you can't really compare it to back then," Wiggins conceded.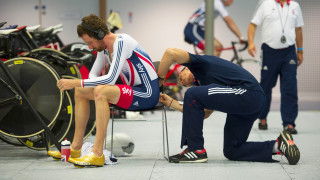 "I do sometimes feel elderly, especially when I race against someone whose father used to compete against me. In 2000, I rode against Phillippe Ermenault for the team pursuit Olympic bronze medal, and now his son Corentin is a potential opponent."
Wiggins returned to the track in August 2015, with his eyes set on the team pursuit gold medal in Rio, however there are several riders vying for a spot.
It is not the first time the Tour de France winner has switched between track and road, and admits the change in lifestyle is welcome.
"I can't allow myself to think about retiring on a win yet, as I have to get to Rio first," stated the determined Wiggins.
"There are six lads going for four spots, so it's just about making sure we do everything that is asked of us in the run up.
"I've been able to switch between track and road through my career, so keeping it fresh and having new goals has been key.
"I spent five years trying to win the Tour de France, losing weight and being miserable, so to be able to come back to track has been like rewinding the clock. This winter is the first I didn't have to go out in the freezing cold and do six-hour rides."