---
Eleven year-old Max McClellan, taking part in his very first Sportive on Sunday, was delighted to win a Sky sponsored GB team jersey autographed by many of the stars of London 2012 including Sir Chris Hoy, Phillip Hindes and Jess Varnish.
Max, who only turned 11 two weeks ago, joined father Brian to cycle the 50 mile event at the newly organised Marlow Red Kite Ride through the Chilterns.
Max was randomly picked from the 350 entrants to win the jersey, donated by British Cycling. The jersey was presented to him by Willi Moore, who had designed the route, and is a former British Olympic Team Pursuit bronze medallist.
According to Dad, Max, who lives in Flitwick, Bedfordshire, has been coached by "Team Keyne" in Milton Keynes since he was eight.
"Max and I had ticked off some Cols in the Pyrenees but we set a target this year for Max to complete his first Sportive, so Sunday was a big day for him," said Brian.
"He really enjoyed the ride and was only slightly disappointed afterwards that he didn't have some kind of certificate to commemorate his achievement. But then he was drawn to win the jersey he was really pleased and is now thinking of having it framed in his room."
There were 326 starters in Marlow, with organisers, the Marlow Riders Cycling Club, offering a choice of 100 mile or 50 mile routes through Buckinghamshire, Oxfordshire and Berkshire with the longer route passing through the Vale of Aylesbury.
"We had quite a large number of entries in the final two weeks before the event and then another 50 on the day so we were pleased with the numbers, and so far we've had some great feedback from the riders," said Event Director Steve Tolmie.
"So I guess we'll have to make this an annual event now"
The organisers used HS Sport to time the event and were more than delighted with the service provided. Andy Lee said, "We were really happy with the service, it was easy to use and there was nothing to the set up of the equipment on the day! Clear instructions were received which helped with the running of the system, and we have to say that it all worked faultlessly."
He continued to add, "The riders were delighted to receive their times seconds after crossing the finish line of the event!"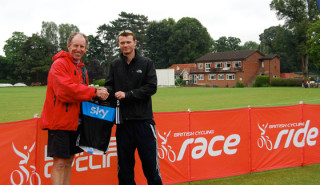 A second jersey, signed by members of the Sky Pro Cycling team, was won by Mark Gillis from Twickenham. He was also taking part in his first sportive, but had earlier been disappointed to have completed only eight miles of his ride after his rear derailleur broke.
An autographed Mark Cavendish World Road Race champion's jersey was won in a separate raffle by Sian Robinson whilst Richard Lampitt won a Bradley Wiggins autographed British champion's jersey.
All net proceeds will go to the charities: Marlow Sports Club and Hearing Dogs for the Deaf.