---
If I'm honest, this time last year I had never even heard of a sportive.
Then, on July 21, I found myself unexpectedly taking part in one. In Paris. Just me and 10,000 others, wilting slightly in the afternoon sun on the Avenue Foch, clutching our bikes and staring at the Arc du Triomphe, which was festooned for the occasion in an enormous tricolour flag. In essence, we were 10,000 people from all over the world unified in the desire to ride around one of Europe's most glamorous cities dressed in somewhat unflattering yellow t-shirts.
I was on holiday in France at the time and had signed up for the Randonnée du Tour after coming across it by chance online. It was, according to the website, "a mass convivial ride" celebrating the end of the 100th Tour de France, so I thought why not?
This was a chance for members of the public to ride a 6.9km loop on closed roads in the centre of Paris - part of the same route the pros would ride later that evening in the final stage of the Tour. By 3pm, when we set off, the crowds had long since started to gather and stake their claim to a spot by the roadside. They had come that day prepared to sit for several hours for the chance to see the world's cycling elite whizz by in a matter of seconds. But in the meantime, they got us. 10,000 identically dressed amateur cyclists meandering along on all manner of bikes, including the Parisian public hire Vélib and a three person tandem.
At the start we joined the good-natured, if slightly confused, melee of cyclists trying to understand the complicated sequence in which we were expected to queue for registration and wristbands. I wasn't keen on wearing the free t-shirt, partly because it was very hot that day, and partly because it was yellow. As we mustered at the start line we passed a marshal who gave me a stern look and insisted I put the t-shirt on. Reluctantly I relented.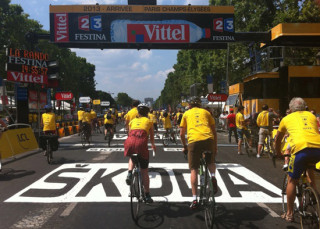 Then we were off. A 10,000 strong peloton. It was slow, crowded, wobbly, cobbly and incredibly good fun. In my mind I was, of course, taking part in the Tour de France (I'd just opted out of the previous 20 stages due to other commitments). And I reckon there wasn't a single man, woman or child who cycled up the cobbles of the Champs-Elysées and across the official finish line that afternoon without momentarily imagining they had just won the Tour.
At less than 7km, the Randonnée du Tour may not be your typical sportive, but I've decided there's room in my life for a few more "mass convivial rides". So I plan to sign up for a few "proper" sportives over the next 12 months. I'll let you know how I get on. And no, I won't be wearing yellow.