Event: 3-4 August 2013
---
British Cycling's President Brian Cookson and Mayor of London Boris Johnson have both praised the weekend of cycling hosted by the Prudential RideLondon, with next year's event already planned for August 9-10.
With over 70,000 participating in the London Olympic legacy event and the streets lined with supporters, Cookson cited cycling as a major sport, with RideLondon a defining moment.
After completing Britain's biggest ever sportive attracting 16,000 riders, Cookson was compelled to welcome the return of the event.
"I want to see this grow and grow," he said. "I hope Prudential RideLondon is going to become a permanent fixture like the London Marathon.
"We are a major sport now, we have taken our place, and I think the Great British public understand a lot more about cycling than they used to.
"We are on a bit of a roll – membership of British Cycling is up by 50 per cent, 100 new cycling clubs have formed since the Olympics, and over a million people are riding the bikes for fitness and health."
Finishing sometime later, Johnson described the weekend as "one of the greatest cycling events in the world."
"We are a major sport now, we have taken our place and I hope Prudential RideLondon is going to become a permanent fixture like the London Marathon."

Brian Cookson, British Cycling President
"We are definitely going to see this again next year," he confirmed. "Whether you see me take part in it again next year is to be decided. It is a gradual step and the most important thing is to encourage people to cycle by making it safer.
"I hope the government will look at this and think what can we do around the country to get people onto the roads and make the roads safer.
"What is very encouraging about this is there were huge numbers of people are enjoying it. We want everybody to support cycling. It is a great thing for the city if you can get people off the road and onto bikes but we have got to keep making it safer."
Just 24 hours earlier, more than 50,000 recreational riders filled the streets of central London in the Prudential RideLondon FreeCycle, while the event's official ambassador Laura Trott delighted fans in The Mall yesterday evening by winning the first Prudential RideLondon Grand Prix.
Frenchman Arnaud Demare brought the weekend to a dramatic and emotional conclusion in front of huge crowds on The Mall this evening, winning the Prudential RideLondon-Surrey Classic men's road race with a brilliant sprint finish in memory of his recently deceased coach.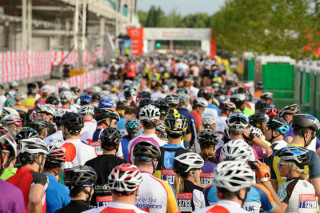 "We had a fantastic sportive and race today to finish an historic weekend festival of cycling," said Event Director Hugh Brasher. "The first Prudential RideLondon has been a great success with cycling taking over the streets of London and Surrey and a host of top-class elite races watched by enthusiastic crowds.
"It just shows the huge appetite there is in this country for cycling of all types and levels, from families and recreational riders, to commuters and professionals racers. The aim of the event was to inspire more people to take up cycling and we are confident that the thousands who turned out have helped to do that."
For Surrey County Council Leader David Hodge, the sight of Surrey's roads full of cyclists was a welcome reminder of last year's Olympic Games.
"Together the bike riders and spectators created a carnival atmosphere that ensured this celebration of cycling was a huge success.
"Now we're looking forward to welcoming the event again next year to inspire even more people to get on their bikes and further cement Surrey's reputation as a world-class place to ride."
The ballot for next year's Prudential RideLondon-Surrey 100 opens online at www.PrudentialRideLondon.co.uk on Monday 12 August.
Next year's Prudential RideLondon festival will be on the weekend of Saturday 9 and Sunday 10 August.