---
Lewis 'Spadger' Barry was only 15 years old when he died entirely unexpectedly in June 2010 from Sudden Arrhythmic Death Syndrome. This promising young rider from Garforth, Leeds was a popular young man in the world of cycling and his parents Mark and Carol Barry created the annual Lewis Barry Ride in his memory.
Now in it's third year the 2012 edition was held on a 50 mile route based on Lewis's favourite training roads around the beautiful rolling countryside east of Leeds towards Selby and York.
Over 650 riders lined up at Garforth Academy on a crystal clear sunny autumn morning for what promised to be a great day's cycling. Mr and Mrs Barry helped by their army of friends, family and supporters were at times overwhelmed by the emotion of the day but also delighted that so many people had turned up to honour the memory of their son Lewis.
The Spadger Ride is probably the best value days cycling on offer anywhere in the country. For a £5 entry fee it has everything you could possibly need, a great route on quiet cycling friendly roads, a short-cut alternative route using most of the same roads for riders wanting less time in the saddle, friendly groups of riders, lots of dry humour, Yorkshire banter, finished off with mountains of cake and tea at the HQ, with vastly experienced BC Yorkshire members doing a lot of the support jobs. The no-frills approach does away with timing chips and all the stuff you don't really need on a sportive, I for one didn't miss any of the extras, it's RyanAir rather than BA 1st Class, still gets you to the same place, just better value.
The biggest difference to any other sportive I've ridden was the number of young riders at the Spadger Ride. With Sky professional rider Ben Swift on the start line and lot's of young riders it was going to be a very enjoyable day.
I'd met up with a few of my usual riding buddies and followed their lead in starting from the middle group, the group dynamic looked OK, not too many young bucks and certainly no SKY jerseys. Because of the sheer number of riders, Mark Barry was sensibly splitting the groups even further.
Out into the lanes and the roads were deserted but for Spadger Riders and club cyclists on their Saturday runs. Within a couple of miles my group maintained a lively steady pace and soon we were eating into the miles passing all the early starters.
My days of riding quickly for sustained periods are well and truly behind me, so it was no hardship to wave Matt Winston, BC's ODP coach, and his group goodbye as I sat up and waited at the roadside for a couple of photo opportunities. Back on the bike and I thought it would be good to ride with Ben Swift and his Dad, Mark, for a few miles.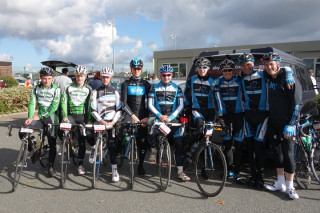 Above: Ben and Mark Swift with some of the South Yorkshire chain-gang group.
Behind I could see a fast approaching group, I slipped back onto the big ring and waited. About 15 riders sped past like a run-a-way train, I had no chance of hitching onto them. But I didn't see Swifty in that group, so he was probably riding a bit more sensibly behind them. Within seconds I heard a low rumble and looked back to see another group of riders which included Ben Swift. I was determined to ride with this group and got back up to speed, as Ben came past he glanced over and gave me a nod, that would have to do. I rode alongside Ben Swift on the Spadger Ride, it's official.
This group contained most of the big hitters, including Malcolm Elliott and Chris Walker with his Trigon RST team and they were riding at a sensible controlled pace, when the two groups merged Elliott took on the role of patron and made everyone slow down.
The vast majority of participants were doing the ride in small groups and after my brief encounter with Ben Swift and his mates I joined a very pleasant group from Wakefield Tri Club, and the Tanfield family from Middlesbrough. Together we rode the section from Tadcaster to Thorner and I was very impressed by the ability and determination of 12 year old Toby Tanfield who was doing his first ever 50 mile ride.
Whenever I do a sportive there is always a period of riding on my own, at my own pace and it's usually during the last few miles, today was no exception. On the final run in through Scholes and Barwick in Elmet it was head down and follow the signs to Garforth. The final mile was blissfully all down hill back to the start to be greeted by the official clappers and the promise of those cakes.
Into the car park and my riding companion Ben Swift and his Dad were chatting to their South Yorkshire chain-gang mates, with Ben more than happy to pose for photographs and talk to everyone. I managed to grab him for a quick video interview.
At the finish I spoke to some of the riders asking them for their reflections of the day.
RST - Trigon team members Josh Cutler 17, Struan McKinnes 16, Lauren O'Brien 16 and Jessica O'Brien 17 had all taken part in the ride along with Chris Walker and his wife Lynne. Lauren told me she was friends with Lewis Barry through the BC Yorkshire team and they had come mob-handed to do the ride and support the two charities benefiting from the proceeds of the day. She added that the event had grown massively from its humble beginnings a couple of years ago when Lewis's friends rode across the Pennines from Manchester to Garforth.
Stuart Tanfield from Great Ayton, Middlesbrough was with two of his sons Charlie 15 and Toby 12. Charlie had ridden with the hitters whilst Toby and Stuart had started in the middle group. Stuart told me, "It's been a good day, we started off with a big group that got whittled down, but I was looking after Toby and making sure he got around OK. It's his first 50 mile ride and I wanted to make sure we paced it right, also that he ate and drank properly. The route was perfect and it was a real pleasure to be part of the ride". Toby added, "I usually only do rides of about 20 miles so today was quite hard, but I really enjoyed, I think I'll be able to do some more big rides now".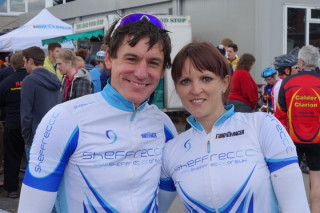 Vanessa Proctor and Mark Etches (above) are close personal friends of Lewis Barry's parents and came to give their support to Mark and Carol. Mark Etches could have ridden with his partner Vanessa but chose to set off with the earlier group and left his lady to look after herself. I asked Vanessa if she had been OK? "No problem, I didn't need him anyway". Vanessa had been inspired to get on her bike after the inaugural Spadger Ride in 2010, and is now fully immersed in cycling, she trains on the roads around her South Yorkshire home getting out with Mark when they can. She told me, "This has been another fantastic day, the weather has been just perfect and the atmosphere is amazing, Mark and Carol have done a great job in setting this up and to get so many riders turning up is brilliant".
Mark set off with the Ben Swift group and as a road racer had no problem with the pace. He told me "I was with the Who's-Who group of Yorkshire cycling legends but it all got split up at some traffic lights. Then on the final few miles it split on some little climbs, but it was good, I enjoyed it, a great work-out in some great company, if we had the time me and Ness would love to do more rides like this".
The Spadger Ride was also a good day on the bike for me, it gave me the chance to do a big organised ride with my mates, meet some interesting new people, ride with a star, eat as many Haribos as I could manage and support Mark and Carol Barry in keeping the memory of Lewis burning bright.
Only in Yorkshire would you get all that for a fiver.