---
The Wiggle Dragon Ride took place in near-perfect cycling conditions last weekend (Sunday 10th June 2012), with the 4,500 entrants taking on the challenging South Wales route.
It is the ninth time the Wiggle Dragon Ride has taken place, but for 2012, the event was organised by the UK's largest mass participation company, Human Race. The company, experienced in organising over 55 events in the UK each year, ensured that the event ran to give the best rider experience possible, with the start venue and feed stations being big focuses.
The event was held for the first time in the picturesque Margam Park and was the UK's only event in the UCI Golden Bike World Series. Participants took on three challenging routes; the Gran Fondo, Medio Fondo and the Corto. Both the Gran Fondo and Medio Fondo riders experienced a considerable increase in the amount of climbing but with only a slight increase in distance, making this the biggest and toughest Wiggle Dragon Ride yet.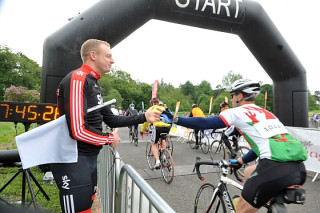 The event was started by Great Britain Track Sprinter Matt Crampton (above), who was riding for WD-40 Multi-Use Product. Matt said: "I'm delighted to have been invited to start the Wiggle Dragon Ride, it's absolutely fantastic that so many riders took part today. The atmosphere has been really great and even better that the rain stayed away."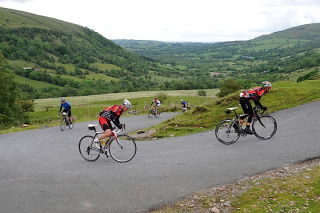 Lou Lusardi, Ride Director, said: "I want to give special thanks to the team who have been working so hard on the event for nine years to make it all possible. Hopefully the challenges and tough climbs involved in this year's route put even the best cyclists to the test. We are also really pleased that more than 250 riders raised much-needed funds for our official charity, The Prostate Cancer Charity."
Human Race, who recently merged with Participate Sport, were also pleased with the smooth running of the event. "We are delighted with the ninth Wiggle Dragon Ride. It is the first time the event has been part of the Human Race portfolio and working with Lou Lusardi has been a fabulous experience," explained Nick Rusling, CEO of Human Race. "The cycling terrain in South Wales is world class and we are pleased to have the Dragon Ride as the stand out cycling event in our current portfolio, and the sportive calendar as a whole. We will continue to work with Lou to grow and develop the event, and look forward to organising the Etape Cymru in September and the 2013 Dragon Ride."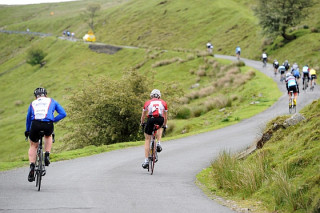 Jason Sims, Event and Athlete Manager for Wiggle said: "The 2012 Wiggle Dragon Ride definitely lived up to its promise of being the toughest one yet! The atmosphere was brilliant and it was great to see everybody cross the finish line with very, very wide smiles. A massive congratulations to every single finisher!"
The Wiggle Dragon Ride's sister event, Etape Cymru, takes place on Sunday 9th September 2012 on closed roads and will share the same experienced organisation team. Entries are currently open and available at http://www.etape-cymru.co.uk
The Wiggle Dragon Ride 2012 was held in support of The Prostate Cancer Charity. Anyone concerned about prostate cancer can call The Prostate Cancer Charity's free and confidential Helpline on 0800 074 8383. The Helpline is staffed by specialist nurses and is open from 10am to 4pm on Monday to Friday and from 7 to 9pm on Wednesdays. Alternatively please visit http://www.prostate-cancer.org.uk