Event: 5 May 2012
Photography: Rick Robson
Location: Woldgate College, Pocklington, East Riding of Yorkshire
---
With a few days to go before the second running of the Pock Pedal we spoke to organiser Andrew Johnston to find out more about the Yorkshire Wolds event.
Above: The distinctive rolling landscape of the Yorkshire Wolds.

Bad weather and flooding has affected a number of events in recent weeks. However, Andrew assured us that the Pock Pedal had been spared the worst effects of the recent deluge: "Preparations are going really well. The only area where there was potential flooding is Stamford Bridge but the flood defences are working well," said Andrew, "The forecast is fine for Saturday so we're looking forward to a good ride for everyone. Last year was a superb day but it was blowing a gale. People coming back for a second year will be happy to see it calm and dry."
The Pock Pedal offers three routes, the 85 mile Mega Route, the 55 mile Midi and 25 Mini route. What all routes share is the unique and oft overlooked landscape of the Yorkshire Wolds. "It's an interesting area", said Andrew. "It's kind of unique, there's nothing too steep but it's just very rolling with nice contours and dry valleys. It's good to have a go at if you've not done a sportive before. There's nothing that's going to scare you."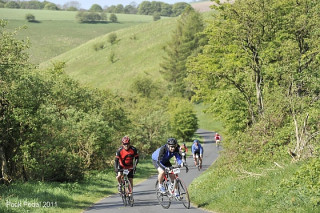 "There's nothing that's going to scare you", says organiser Andrew Johnston. However there's plenty to test your mettle, as this climb illustrates.
The route passes through the picturesque villages of North Dalton, Wetwang, Sledmere (with its fine country house) and Thixendale; the descent into the beautiful valley of Thixendale being a real highlight after the ride's one notable climb to Birdsall. The landscape has been immortalised by artist David Hockney, who lives in Bridlington and with a short route on offer too, there's something for every rider's palette:
"The short route is there for people who've never done an organised ride before. It's not a challenging route. It's relatively flat and passes through a number of nice villages, a way for beginners and people from the local community to get involved with. Quite a few of our under 16s in the club will come along and ride it with their parents."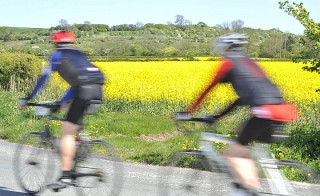 Above: Last year's event saw bright skies but strong winds. Fingers crossed for fair weather in 2012.
As well as the (fingers crossed) promise of good weather and great scenery, Andrew assured us that the rider support will be just as good "There'll be energy bars at the start. Long route riders get a feed station at 35 and 62 miles, while riders on the medium route share the first feed with the long route riders. At each feed there'll be a selection of real food energy supplies as well as spare tubes and track pumps and there'll be a broom wagon on the route should anyone need it."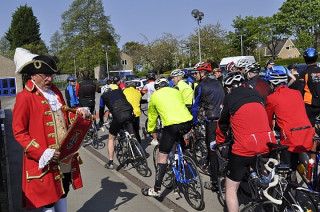 Above: Hear ye riders! To cap it all, the rider briefing is given by none other than the local town crier!
Best of all, profits from the ride go straight back into organising club, Clifton CC. The club is long established with over 250 members and offers a variety of activities for cyclists of all kinds. The Pock Pedal proceeds will go directly into funding Clifton CC's thriving Go-Ride young peoples' section, which was established in 2008. Proceeds from last year's event allowed the club to purchase equipment, hire vehicles to take young riders to races and run winter training sessions. The club hopes that the 2012 edition will help support the Go-Ride club further.
To find out more and enter go here. Entries are available on the day for all distances.