---
Following on from the slick organisation of three weeks earlier, in a similar style nearly 700 riders got in Motion on quiet roads of the West Midlands, in the aptly named Wiggle Motion in Mercia - A brand new sportive challenge added to the KILO TO GO calendar of events for 2012.
Above: Riders set off from the start along Hugh Porter Way at Aldersley Leisure Village
It certainly proved popular with participants. The weather forecast of bright but cool conditions held true with -2 degrees C recorded on the start line. Two distance options took riders to South Staffordshire and Shropshire with everybody tackling the long climb up over Cannock Chase followed by some descending
Above: Dual LEJOG world record holder Lynne Taylor looking fresh as a daisy after 93 miles.
and flat roads to the first feedstation at Church Eaton. The long and short route options split just after the feedstation and while short option riders enjoyed more calm lanes in glorious sunshine, long option riders were sent 'all around the Wrekin'.
For the next 30 miles or so the rocky outcrop of the Wrekin was visible over the left shoulder before a descent into the Severn Gorge and the UNESCO World Heritage site of Ironbridge. This is the place which sparked the modern industrial world into motion. Bridgtown Bikes rider and top endurance cyclist Lynn Taylor, who holds both solo female and mixed tandem (with Andy Wiklinson) LEJOG world records seemed to enjoy her local sportive too – perhaps used as a training event for something special later in the year?
Back at the Aldersley Leisure Village HQ many riders confirmed that this new event was a fantastic experience and even enquired about Wiggle Motion in Mercia 2013! Geoff Saxon from KILO TO GO added, "We're thrilled! - All in all today's event has gone extremely well which is always a challenge to deliver with brand new events like this. Local riders already know that the area around the birthplace of the Industrial Revolution is fantastic cycling terrain with a mix of quiet roads, unspoiled market towns like Newport and Bridgnorth and of course the Severn Gorge and Cannock Chase. We'll be back next year even bigger and better!"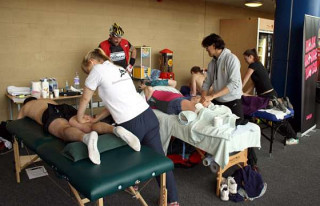 Above: Back at the HQ aching legs and backs were pampered by sports masseurs from Star Massage.
More information on Kilo To Go's events – www.kilotogo.com