---
The Cheshire Cat sportive has rightly earned its place as an instant classic. Only in its sixth year, the event has, in the minds of many riders, become THE season opener. With just over a month to go before the 2012 Cheshire Cat, we spoke to event organiser Geoff Saxon, who co-runs Kilo To Go with Simon Thomson, to get an insight into how the event came about and the kind of planning and hard work that goes into delivering a successful 3000 rider event.
"[In my previous job] I used to do ridiculous miles in the car, going up and down motorways and one day I was zooming down the motorway wishing I was out on my bike one dreary evening and I could see all the orange lights dotted across the hills and I looked and thought, "That looks really strange. Clearly there's a village there at the top of that hill." I got the atlas out when I got home and I studied the map for about half an hour and I thought, "That's got to be Mow Cop. One day I'm going to pop my bike in the boot and go and ride it." And I did and I thought "what an unusual hill". And years later, I was doing my very first bike event with that hill in it."
The inspiration for Geoff's first and most well-known event is something that all sportive riders can relate to – the urge to get out of the car, onto the bike and get exploring. After a long and successful career in IT, Geoff Saxon, founder and co-director of Kilo To Go, decided to do just that back in 2006. The very next year, Saxon had put together a business and an ambitious series of 12 events, the first of which was the Cheshire Cat. Since then, Saxon, and the sportive faithful, haven't looked back. Last year the event saw 3000 people ride the idyllic cycling lanes of Cheshire and this year looks set to repeat that performance.
We asked Geoff what he thought makes the Cat a special event on the calendar and what keeps people coming back. "It's in a good catchment area," explained Saxon, "You've got Manchester, Cheshire itself, the Potteries, the Peaks, Sheffield - they're all hotbeds of cycling." But that alone doesn't draw in the kind of numbers that the Cat achieves – "I think the name of an event helps – we got it right with the Cheshire Cat" added Geoff. "Lewis Carroll and 'Alice's Adventures through the Looking Glass' –Carroll lived near Warrington as a child, in Daresbury – so there's a sort of heritage."
Heritage and a certain famous local hill – the 1 in 4 brute of Mow Cop – the inspiration for Geoff's business idea and his very first event. "It's also got its signature climb. I'd like to think that we've made Mow Cop one of the must-do climbs in the country" said Geoff. "It's only four or five miles from where I now live, it's a super hill and as a cycling hill it's really quite good because it's one of the few climbs with a village at the top." Last year Saxon and every one of the thousands of riders who chose to take on Mow Cop were given a hero's welcome by the locals, as Geoff explains; "I remember being overwhelmed last year (2011) going up there and people were cheering riders on as the got to the top. Mow Cop is a super hill and all the banter on forums about it means that people get motivated about it at this time of year."
However, events like the Cheshire Cat don't just appear out of thin air. I asked Geoff to run me through the planning timeline behind the event, the first of a whole series of Kilo To Go events throughout the year, exploring various parts of cycling Britain. "The first thing to do is to pick a date, which we usually do in the preceding September" explained Geoff – "It's easy with the Cheshire Cat because we like to run it on the weekend of British Summertime.
"At the same time I'm actively involved with the police, I let them know when the event is going to be. We look for other events – we also speak to the organisers of other known big events – we can either clash with a big event date wise or clash in terms of geography, or worst of all both."
Once the date is settled and event clashes are ruled out, Geoff and his team move on to looking at the route, which in the case of the 2012 Cat, sees three routes (45, 74 and 100 miles) with the longer two taking on the famous Mow Cop killer mile. "We put the rides together with mapping first then we go out and ride routes, looking for anything that's changed" said Geoff, a dyed-in-the-wool cyclist who rode all 12 of his first events back in 2007 and continues to walk the walk and talk the talk in 2012. "We try not to change anything that ain't broke but we want people to come back." It's a difficult balance but one that Saxon has clearly got right. "So we try to recognise the bits that people don't like, which we tune into via comments and feedback. We do change routes a little bit – sometimes we'll think 'that feed-station didn't work and that HQ could be better' so we do make changes and that work is all done before the end of October the previous year. "
Once the route is nailed down the events go online, the marketing begins and eventually the rides are opened to the public. At this point and always, it's clear that rider satisfaction is Saxon's number one priority; "We aim to get all of our events online to look at by November 1st. Once the events open and we're collecting entries we tend not to make any changes because it's like a contract – when you've entered an event you've entered it because it starts and finishes at a particular place and takes a particular route. As a rider you've made a decision to enter based on the information that's available."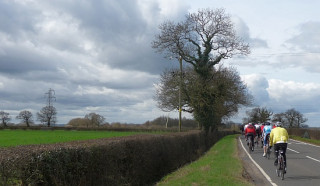 In 2012 as always, the Cheshire Cat is the first of Kilo To Go's series of sportive events and start of many a sportive rider's season. And for Geoff, each year, the Cat sets the benchmark and blueprint for the remaining events in the season. Even a few weeks out, Geoff and his team are tweaking elements to make sure everything is top notch on the day "Let's say, we may change our arrow supplier or the design of our arrows, or we may change a timing chip supplier or the way we time our events" said Geoff. "So we'll be pretty busy making sure that we get those two things right for the Cheshire Cat – so if they're right for that event then they're right for all the other events. That's why we end up being SO busy running up to our first event."
The 2012 Cheshire Cat rolls out of Crewe Alexandra football stadium on Sunday 25 March with a choice of 45, 74 and 100 mile routes. To find out more about the Cat and the other events on the Kilo To Go calendar, go to www.kilotogo.com.