---
Olympic gold medallist Victoria Pendleton was joined by 800 women of all cycling abilities to pedal 40km around the scenic roads of Cheshire in the second of two Cycletta events for 2011 sponsored by Sky Ride. Cycletta events are designed to encourage more women to enjoy cycling and fund-raise for Macmillan Cancer Support.
Following a very successful event in September, participants enjoyed a sunny start at Tatton Park, Cheshire, with inspiring words from Olympic Champion, Victoria, to kick things off. At the finish line, participants were welcomed home with free massages, helmet hair remedy centre, a chill out area provided by Sky and British Cycling, a Cycletta bracelet and goody bag to boost satisfaction for completing the route.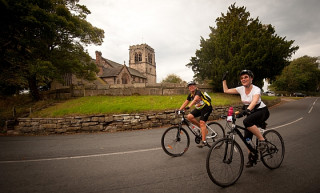 Along the route, which navigated country roads of Ashley, Mobberley and the stunning Cheshire countryside, there was a buzz of excitement generated by cyclists and supporting spectators. Cyclists were also supported along the way by mechanics, medics and feed stations.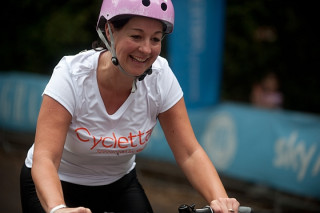 Finisher times ranged from a speedy hour and five minutes to over three hours with Victoria taking her time enjoying the route and talking to participants on the way round, with 75% taking part in their first ever cycling event.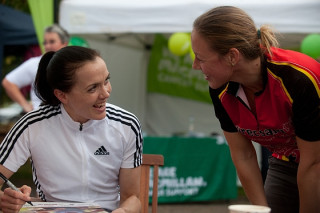 Olympic medallist Victoria said, "It was such a privilege to ride alongside hundreds of women in Cycletta North. I was able to speak to lots of girls on the way round and the enthusiasm and atmosphere was infectious. It is great to see so many more women cycling, not just at Cycletta but every day, and we really hope this continues. Well done girls."
Jo Dytch of Participate and Project Director of Cycletta, said:
"We are delighted that Cycletta North has been such a success. The event provided a friendly environment for female cyclists of all abilities.Victoria Pendleton and the 100s women who took part should be proud to be part of the rapidly growing numbers of women enjoying the freedom of two wheels and bringing such enthusiasm to the event. Our aim is to have provided a catalyst that will see a social shift with thousands more women enjoying cycling across Britain over the coming years and from seeing the smiles on the faces today we are well on the way."
To join in the female cycling revolution and for more information www.cycletta.co.uk