---
Etape Cymru Mavic Competitions Launched and Registration Deadline Extended
The Etape Cymru has announced that the final deadline for entries to the closed-road sportive has been extended by two weeks, from September 16th to September 30th.
The new closing date for entries comes after the exciting news that the event will now incorporate a timed hill climb competition. All riders will be timed as they ascend the famous Horseshoe Pass, and the quickest male and female riders in the Under 30s, 30-40, 41-50 and Over 50 age groups will receive one of Mavic's new Plasma SLR helmets.
Mavic, who will be providing mechanical support to riders on the day, have also generously offered a set of the fantastic Mavic R-Sys wheels, worth £1,330, to one lucky rider who will be drawn at random on the day.
Entries to the Etape Cymru are currently at just over 1600. But this new deadline gives riders the chance to register over the next two weeks, should they want the chance to grab some of the great prizes that Mavic are offering to riders on the day.
Alex Coventry. Mavic UK and Ireland Sales Manager, said: "Our new line of helmets is developed along two key ideas of fit and performance. With the new Ergo Shape, Ergo Hold system, and Ergo Fit pads, the Plasma SLR is the top of the pile in Mavic's new helmet range. With optimal fit, comfort and ventilation for even the hottest days, and Carbon fibre reinforcement guaranteeing no compromise protection, you'll almost forget you are wearing a helmet."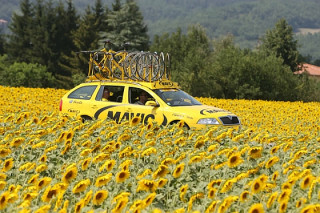 Mavic's mechanical support on the day will bring a touch of the Tour de France to the gorgeous Welsh countryside, with the famous yellow support cars providing assistance en route. Etape Cymru riders can be assured that the Mavic team of mechanics hold an impeccable wealth of experience, travelling nearly half a million kilometers a year to provide 1,200 days of assistance to cycle events.
Team Sky's Geraint Thomas MBE, who is backing the Etape Cymru and set a benchmark time of 14.22 up the Horseshoe Pass, has said that the route offers "a challenging but fabulous opportunity to enjoy our spectacular Welsh scenery in the safety of a closed road environment."
Entry to the Etape Cymru costs £65, which includes a closed road environment, event goodie bag, event gilet, and a free British Cycling Ride membership worth £24. Existing British Cycling members pay a discounted entry fee of £53. Entry closes on September 30th 2011.