Stage three - Tuesday 17 September
Knowsley individual time-trial 16km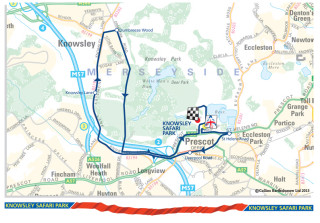 Knowsley will host The Tour of Britain's biggest ever individual time trial this September, as stage three of The Tour comes to Merseyside on Tuesday 17 September.
Riders will face a ten-mile (16-kilometre) test against the clock, starting and finishing from Knowsley Safari Park. A traditional time trialing distance in the UK, the ten-mile route will also help celebrateten years since the modern Tour of Britain was revived in 2004.
The announcement follows Knowsley's successful hosting of the finish of stage two of the 2012 Tourof Britain, won by Australian rider Leigh Howard.
The Knowsley stage will be the fourth occasion that an individual time trial has been included on the route. Previous venues for time trials include Birmingham (2005), Crystal Palace (2007) and central London (2011).