Welsh Cycling teamed up with Gwynedd 5x60 officers recently to get 125 Gwynedd School pupils taking part in a Mountain bike race at the legendary MTB venue of Coed y Brenin.
Despite a slightly rainy day and a few thousand midges turning up, 125 school pupils took part, gave it their all and had a great day at Coed y Brenin.
Each rider started the day with a time trial around the race course. The times were used to seed riders into the elimination phase of the competition-4 to 6 riders racing against each for a place in the final of the competition for their year group. There was some exciting, close racing as the riders fought to win important points to count towards the overall competition, cheered on by other pupils and the helpers from their school.
By early afternoon, the last race had been run, the points counted up and it was time for the all important results. The winning boys school was Syr Hugh Owen while Ysgol Moelwen took the girls title. It was really close across both categories so we have to say a big congratulations to all those who took part including teams from Tryfan, Tywyn, Botwnnog, Glan y Mor, Ardudwy, Eifionydd and Dyffryn Nantlle.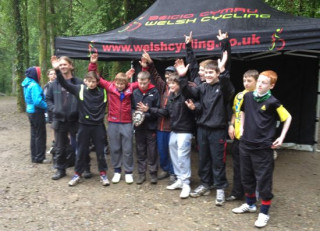 The winning boys team from Syr Hugh Owen with Steve Beech representing Beics Brenin.
Ann Williams, 5x60 lead for Mountain Biking said:
Since the event, staff from all 9 schools have praised the event and most importantly have expressed how much the kids enjoyed themselves. It was great to see children who don't usually get to represent their school in sporting competitions taking part, which fundamentally is what 5x60 is all about. Welsh Cycling's support proved invaluable and the success of the event being the result of a great partnership between Welsh Cycling and the 5x60 scheme.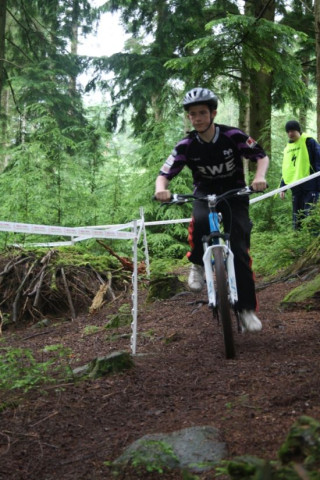 A rider tackling one of the singletrack sections.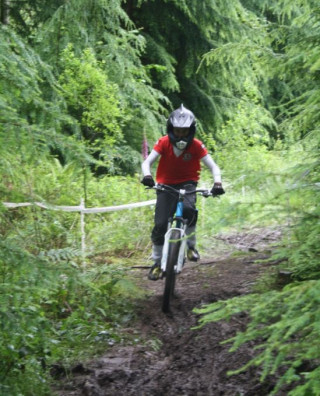 The course was a little muddy in places but it didn't put riders off!