Rider Diary: Team GB | | |
August 10 2009
Training Camps And Broken Ribs - All In A Week For Phil Dixon
So, as Olympic Programme Coach for British Cycling I thought I'd better be the first to write something for the British Cycling Team GB rider diary. We'll have contributions from all the team soon - I can tell you that because this week I've been spending some time with most of the riders on a training camp in preparation for the World Championships.
After one week with the under-23 squad (David Fletcher, Annie Last, Lily Matthews and Scott Thwaites) Juniors Kenta Gallagher and Steve James joined us in Macclesfield at the Academy house. The aim of the week was to get some quality rides and skills training in, splitting the time between road miles and mountain bike smiles.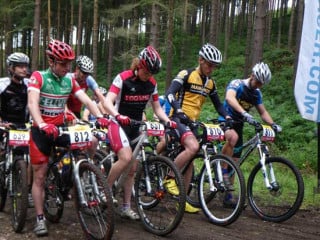 We started out with the Midlands XC race in Cannock Chase. Lily would race in the Sport men's category for some extra competition, while all the lads stepped it up to Elite. For Steve and Kenta who usually do the Junior category this was quite an increase compared to their usual race distance. Both coped well though - Steve even won the race showing he is definately able to step out of his comfort zone.
Monday was an easy spin on the road for two hours and on Tuesday we headed over to Wharncliffe and had a really good training session - the guys did four hours on a course that was pretty technical - lots of jumps and steep sections.
Annie Last had a crash which saw her go over the handle bars, but she landed on her feet and was straight back on the bike! I wasn't so lucky though. I broke my ribs a few weeks back at the European Championships and managed to bust them again...the show must go on.
That's why Wednesday was spent from the comfort of the team car yelling directions while the riders did the hard work getting in 75 miles in three and a half hours.
Thursday was another day of mountain bike training and Friday the team got a day off to discover Manchester. While they're hitting the coffee shops, I'm back in the office before flying out to Bern to support Liam Killeen in the Swiss National Cup.
Meanwhile the Junior and under-23 riders will travel to the mountain bike Tour de France for more race conditioning in the build up to the World Championships. Next time you hear from me it'll be just after I land in Australia for the Worlds.