Road To 2016
Elinor Barker: "I've got the best in the world to try to keep up with."
UCI Track Cycling World Cup coverage
Road To 2016 Homepage | British Cycling Olympic Performance Programmes Explained
---
One of British Cycling's newest Olympic Academy Programme athletes will make her senior international debut alongside Olympic champions at the Glasgow world cup.

Barker leads Trott and King, training in Manchester one week before her world cup debut

Barker will ride alongside Dani King and Laura Trott in the team pursuit and in her own words has "the best in the world to try to keep up with."
Barker has already been training with the world champions and world record holders at Manchester's National Cycling Centre, under the tutelage of British Cycling's women's Olympic Endurance coach Paul Manning.
Completing efforts simulating the 3km distance, the 18-year-old from Cardiff will start in position three, with Trott leading off.
King summarised the formation of the threesome as "last-minute" but insisted Barker had already accustomed herself to the team.
"Our first session was a week ago, but it's great to have Elinor on the team. She's doing amazingly well and we're really looking forward to stepping up and racing."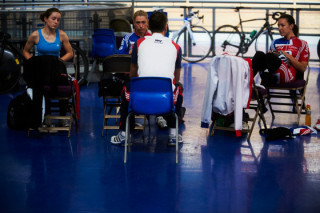 Paul Manning (centre, white) addresses Barker (far left), Trott and King (right)
Barker's call-up comes after her best season to date, during which she claimed the junior time trial world championship on the road and the junior European individual pursuit title on the track.
Describing lining up on the Sir Chris Hoy Velodrome on Friday as "a massive opportunity," Barker is the first candidate to emerge for the expanding team pursuit lineup.
And King is certain Barker will be the first of many to try and make the lineup for Rio 2016, where the women's event is expected to mirror the men's, with an increase to 4km in distance and a five woman squad – four of which will compete in the final.
"There are so many girls coming through, it keeps us all on our toes and training hard all the time. It's great we've got so much depth in women's cycling.
"None of us are going to become complacent, we never have. I think that's why British Cycling is so successful, because everyone's striving to be in our shoes.
"We're all training really hard and super motivated to carry on towards Rio and this is the first stepping stone towards that."
British Cycling will be reporting live throughout the Glasgow world cup, with reaction to the racing as it happens.