|
Location: Beacon Country Park, Beacon Lane, Upholland, Lancashire
Event: 20 January 2013
---
Sunday 20 January sees the North-West Cyclo Cross League return to Beacon Country Park for the final event of the season.
Organised by the St Helens CRC, the youth event will start the racing off at 11am with the main event starting at 1.30pm.
Events
11am – Youth Race, £6 entry fee
12pm – Under 12′s, No entry fee
12:30pm – Under 10's, No entry fee
1:30pm – Sen/Vet/W/Jun, £11 entry fee
The course
The course will be similar to last year's event due to the sheer amount of positive comments we got back from the riders. Beacon Country Park offers something for everyone and we have designed a challenging yet fun course, because we think Cross is really about having fun in the mud!
The course consists of paths, grass fields, descents, run-ups, off camber turns, hairpins and much, much more.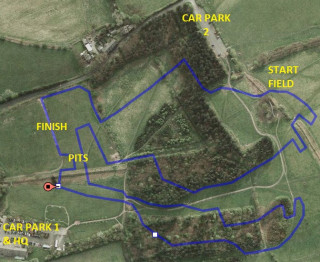 Signing on
Riders will be able to sign on at Beacon Golf Club. The Golf Club will be serving hot drinks throughout the day. Toilets are at the Rangers Centre, not in the golf club. Please do not enter the golf club wearing muddy footwear. For those with sat navs, the postcode for Beacon Country Park is WN8 7RU. There are two car parks within walking distance of the Golf Club. Please use the second car park when the first is full.
NWCCA prize presentation
The NWCCA prize presentation will take place after the cross race and will be held in the Golf Club. The presentation is free to attend; the Golf Club will be serving a hot buffet. Tickets for the buffet cost £6.50 per person and can be purchased using paypal (before Sunday 13 January). See the NWCCA site for further details.
There will be a small amount of tickets available for purchase on the day. Preference is to pay in advance.
Sponsors
The following companies are generously sponsoring the event: Germwarfare.co.uk, Newwavephysio.co.uk, Sihelcycling.com, DHWagencies.com and Standoutdriveways.co.uk.