British Cycling

is pleased to today announce extensions to

the

organi

s

ation's

successful partnerships with

renowned

consultancy Lotus Engineering and engineering giant Renishaw

,

to deliver the bike that will be

used

by the Great Britain

Cycling Team

track squad at the 2024 Paris Olympic

Games

.
Building on the relationships that saw Team GB blaze to the top of the track cycling medal table with seven medals at the Tokyo Games, Lotus and Renishaw will continue to work collaboratively with the Great Britain Cycling Team to deliver the next evolution of the cutting-edge track bike, alongside our bike manufacturer Hope Technology.
The partnerships will strive to increase the bike's speed through an enhanced design, with Renishaw using its expertise in additive manufacturing to create lightweight, complex parts for the bike, which will aim to reduce drag and further improve its overall speed.While Lotus will once again bring its renowned lightweight design and outstanding aerodynamic efficiency to deliver world-classengineering.
The bike will be homologated in line with UCI regulations through 2023 to makeit competition-ready, for the summer Olympics in Paris next year.
Great Britain Cycling Team Performance Director, Stephen Park CBE, said:
"Over the last Olympic cycle, we have developed fantastic relationships with Renishaw and Lotus, working collaboratively to bring together world-leading expertise from their teamsinto our programme. This, combined with our in-house team who are constantly working to find the most innovative solutions, such as optimising rider race positions in our newly opened wind tunnel, gives our riders the best possible chance when they get to the start line.
"Having brought back seven track medals from Tokyo, we are excited to see what we can go on to achieve together as we work towards further refiningour bike, which is just one part of the world-class support we are able to offer our riders as we set our sights on Paris 2024."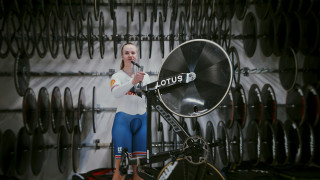 Ben Collins, Senior Applications Engineer for Renishaw's Additive Manufacturing Group, said:
"We're really delighted to be working once again with the British Cycling team after the success in Tokyo.Creating a bike light enough for Olympic competition that also stayed within the UCI guidelines was a challenge, but it also gave us the chance to showcase how beneficial additive manufacturing can be across all industries.
"It was great to see how well the bike performed, and now that we've renewed the partnership, it will be really exciting to see how we can help improve the bike's performance for Paris."
Matt Windle, Group Vice-President and Managing Director, Lotus Cars, said: "We are thrilled to be continuing this unique and successful partnership with British Cycling. Being involved in the development of such a high-performance machine, and having riders win so many medals riding it on a global elite sporting stage like the Olympics, is fantastic."
This project marks the third time that British Cycling has linked up with Lotus Engineering to deliver an Olympic track bike.
The Lotus Type 108 was ridden to Olympic glory by former racing cyclist turned walking and cycling commissioner Chris Boardman in the individual pursuit at the Barcelona Olympics in 1992. It is one of the most iconic bikes in the history of cycling, featuring an advanced aerofoil cross-section and a monocoque carbon frame to minimise weight and maximise aerodynamic performance.