Meet David, NEG Marshall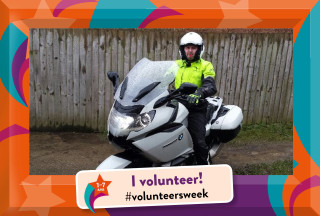 Name: David Hunt
Occupation: Tourism
Cycling Club or Group: National Escort Group Wales
Volunteering role(s): NEG Marshall
How long have you been volunteering in your role for? 5 years
How did you get into volunteering? I had obtained an advance m/c qualification and wondered how I could maintain the level and how could I use it. Like a few of our group members I was inspired by the motorcyclists involved with the Tour de France. After a little research I found the National Escort Group. Ta Daa! The rest is history. Putting a little something back into the cycling community.
What are the benefits of volunteering? Working with like minded people and expanded social network
What has been your most memorable volunteering experience in cycling? Working on Anglesey a year or two back with Dame Sarah Storey taking part.
Describe the perfect volunteer (without describing yourself!) Being a member of the team who won't drop the ball. Or perhaps, someone who is prepared to get into the mix, a thinking team member..
Advise someone who might want to volunteer in cycling. Joining the group is a great way to advance your riding, giving your riding a purpose at the same time working as part of a team providing the cycling community a safe zone to race safely. The by product is the social side.
Interested in becoming an NEG Marshall?
If you're passionate about road cycling and keeping our cyclists safe across Wales, the role of an NEG Marshall could be for you.
We are currently recruiting NEG Marshalls across Wales, to enquire please email Alistair.waldron@welshcycling.co.uk