Meet Alec, our Cyclocross Assistant Commissaire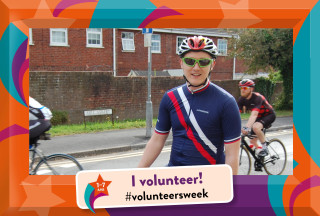 Name: Alec Tinsley
Occupation: Public Service Centre Operator for South Wales Police
Cycling Club or Group: Wenvoe Wheelers/Police Sport South Wales
Volunteering role(s): Cyclocross Assistant Commissaire
How long have you been volunteering in your role for? 2 Seasons
How did you get into volunteering? I checked on BC website one day for volunteering opportunities, and was lucky enough to see a training day for Cyclocross Commissaires that was being held locally. Having a purely spectator interest in Cyclocross, I immediately signed up. It was a good way to learn more about, as well as become involved in the discipline.
What are the benefits of volunteering? You are brought in to such a tight knit, but massive community/network. You make new friends, both racers and other volunteers. Everyone is very friendly with each other. And many people are grateful for the free time we give up to provide and promote safe racing.
What has been your most memorable volunteering experience in cycling? Being asked to assist with the National Trophy Round 2 race at Crosstober 2016 in Abergavenny.
Describe the perfect volunteer (without describing yourself!) Someone who is used to early morning starts. Someone who is always keen on meeting new people, learning new skills/information. Someone who likes tea/coffee/cake is highly important as well.
Advise someone who might want to volunteer in cycling
It's a great way to see the sport from a different angle, especially if you are a spectator or casual cyclist as you learn more about the particular discipline. People are grateful for the free time you give up to help on the day, and it can even peak your interest into actually participating in a race one day, especially if you never saw yourself heading down that route.
Interested in becoming a commissaire?
Find out more about becoming a commissaire here
We often hold training courses within local areas across Wales. For information on attending a course near you, please contact Alistair.Waldron@welshcycling.co.uk