Meet Steve, one of our dedicated volunteers since 2017!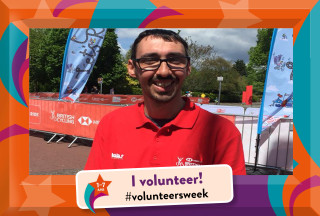 Name: Steve Gabriel
Occupation: Civil Servant
Cycling Club or Group: Cardiff Social Cycling & Wenvoe Wheelers
Volunteering role(s): HSBC Guided Ride Leader/Coordinator, Ride social leader and Lets ride pop-up/City ride volunteer
How long have you been volunteering in your role for? : I have been part of the Guided rides programme since June 2017 and coordinator since August last year. I have been a ride social leader since setting up Cardiff Social Cycling in June 2017
How did you get into volunteering?: I have always loved cycling and wanted to get involved in a way that would help encourage and support people with getting out on their bikes. I was looking at coaching when the opportunity arose to do the ride leader training and that is how I first became involved with British Cycling and the Guided Ride Programme. From working on that I started a social cycling group in Cardiff with another of the ride leaders and, almost a year down the line, or little group has grown to over 300 members.
What are the benefits of volunteering?: I find it really rewarding and seeing the same people coming back at different events and rides, growing in confidence and taking that leap to becoming a cyclist is great. Just knowing that I've played a small part in helping them in some way makes me feel like I'm doing a good job.
What has been your most memorable volunteering experience in cycling?: There genuinely isn't one stand out moment as all my various roles have their own highlights. Having over 30 participants on a single Guided Ride was pretty epic as it showed to me that the programme is working well. From my Cardiff Social Cycling group I've been amazed that over 50 people have signed up to our Velothon team, many doing something like this for the first time.
Describe the perfect volunteer (without describing yourself!): Someone with passion is a must. Having that enthusiasm really helps people engage and being able to give encouragement to people at the grass roots level is vital. Remembering where people are on their cycling journey is really helpful to as what might seem easy to you could be a massive personal achievement for someone else and acknowledging that can really put a smile on their face. Being someone that really wants to make a difference in anyway they can, whether that is just getting them out on the bike more or helping run an event so others can participate etc.
Advise someone who might want to volunteer in cycling: Just get involved in some way. Find that area that interest you and see what opportunities are out there. For anyone interested in getting people riding then become a Ride Leader or Breeze Champion or start putting rides on LetsRide to show what routes are around that people may not think about. Find a cycling club and get involved with coaching or even get to some events and see what the officials do to see if that might suit you. Most importantly….. enjoy it.
Get involved
If you are inspired by Steve's story, why not take a look at the below!