Sam Tillett, James Tillett, Dan Coombe, Will Roberts and Pete Kibble from the Welsh Cycling u23 Programme all competed in the eight day Rás Tailteann, a first time for a race of this length.
Sam Tillett of the Wales racing academy said: "I learnt a lot about my capabilities after 8 days of racing.
"I think the hardest part was timekeeping as you're constantly planning when to pack, eat and prep for the next day, and also eating funnily enough, as you have to make sure you have enough to give you energy for the day, so feeling full was a must".
Will Roberts added: "Going back to the cars for bottles, was a new experience for me, and trickier than I thought".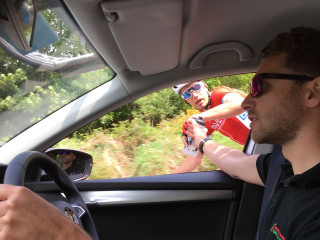 Begining in Drogheda on May 20th , the competition ended at Skerries on May 28th, meaning the academy rode a total of 1180.5 kms across the week.
The route featured four gruelling category one climbs, 10 category two ascents plus 20 third category slopes, and pitch specialist climbers against all-rounders.
James Tillet said: "The highlight of the racing for me was stage 7. That day we really pulled through as a team and turned the race on its head to how we wanted it to play out.
"A strong breakaway of 6 had formed up the road with some strong GC contenders at just over 1 minute. We brought it back down to just under 30 seconds within 5km and at the foot of the first cat 2 climb of the day launched Pete for a solo bridge to the break.
"It all seemed to work like clockwork at the time and the buzz off of it you could feel from the whole team and the staff too".
Dan Coombe added: "After long winter rides and training camps with each other it was great to feel that we all came together".
Academy Coach, Rob Partridge said: "I am very proud of the riders this week.
"They've shown incredible teamwork and professionalism beyond their years.
"The week was a brilliant learning experience for the guys, and it goes to show what you can achieve with the right preparation and commitment".
Pete Kibble of the academy added: "It felt great that we worked so well as a unit.
"I really enjoyed the race thought it was great experience all round. I'd love to race it again".
Follow the academy:
Twitter: @WalesRacingAcad
Instagram: @WalesRacingAcademy
About the academy:
Wales Racing academy by Welsh Cycling leads on from the existing Youth and Junior programmes, to continue developing and working with the riders to further prepare and support them for the world of professional cycling.
The programme is supported by SD Sealants, read more here.